I'm going to start at the end. There is a certain logic to this, in that everything I found in Russia was other than I expected it to be, back-to-front, astonishing. Taking myself into those last hours in Moscow, remembering the process of saying goodbye, which begins long before the aeroplane takes off and ends long after it lands, I can conjure up for you the spirit of my time in the city.

This Bleeding City cover in Russian
I feel like Kim Philby or Anthony Blunt, the British spies seduced by the Soviet propaganda machine in the Thirties. Except for me there is no ideological excuse; there is no political journey. I simply felt, and feel, that Moscow was – is – the nearest I've ever come to a home. As the wheels of my plane leave the ground, it is as if I've left something behind, a part of me that dwells ghost-like on Kuznetsky Most, waiting for myself to come back.
I'd spent my teenage years in Russia – not actually there, of course, although Moscow in the mid-Nineties would have been fascinating.
But from a small, hardback copy of Turgenev's A Hunter's Sketches that my father gave me at 14 to the mind-storm of reading Crime and Punishment as a pimply 16 year-old, and later sobbing on an aeroplane to Japan, aged 18, as I read Anna Karenina and looked down over the vast and sun-dappled steppes, Russian literature was my fully fledged obsession. Lermontov, Platonov, Gogol, Solzhenitsyn, Bulgakov and as many others as I could get my hands on. Even though I'd never been there, Russia was deep in my heart.
Before the taxi which is to ferry me along the fume-fogged, Lada-jammed road to the airport, the British Council (who organised my Russian adventure) have arranged a meeting with Vladimir Grigoriev, deputy head of the Russian Federal Agency for Press and Mass Communications. I'm not looking forward to our chat.I have an idea, you see, of what a Russian bureaucrat should be like: grey suit, grey skin, Mr Burns-like steepling of the fingers.
The building confirms my expectations: institutional carpeting, gun-toting guards on the door, a hallway bearing multi-panelled screens of state-owned television.
But then I'm led – followed by the British Council girls –into a light, book-lined office that reminded me of my grandfather's study at Princeton University. Grigoriev steps towards me. Rather than grey, he is a silver fox, like George Clooney after a few too many books, a few too many beers. He's charming, eloquent, literary: a former publisher. I want us to be friends.
We speak about soft power – the idea that, through the common languages of literature, art, music, political change can be effected, a difference made to the way a country, a group of countries, perceive themselves, conceive their interaction with others.
It is this idea that instructs the work of the British Council, and Grigoriev speaks intelligently and subtly about the place of intangible art in the steel-hard world of politics; the ability of authors and artists to bring nuance to the blunt machine of the state. He says that while it may be only, say, 3 percent of the population that engages seriously with art, this 3 percent has always been – and will continue to be – important.
History has shown books can play their part in toppling tyrants. Which brings us to the subject of Pussy Riot.
I'd almost not come to Russia. The story of the three girls arrested for their anti-Putin protest was everywhere in the news in Britain. It had taken Susie Nicklin – director of literature at the British Council – to persuade me, appealing to my author's ego, telling me how rare it was that a first novel received the kind of attention that This Bleeding City was getting in Russia. But I'd gone under duress. I was going to have my Pussy Riot Moment.
By the end of my trip, I'd bored the British Council girls near-comatose with my Pussy Riot proselytising. Travelling down to the International Tolstoy Conference in Yasnaya Polyana, they banned me from mentioning it; they realised (as I came to realise) that my view of the case was jejune, obvious, spoon-fed by a one-dimensional presentation in the British press.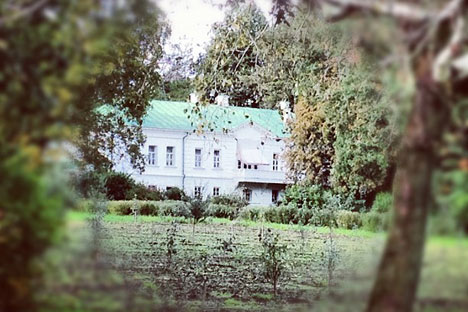 Tolstoy's house in Yasnaya Polyana. Source: From personal archive of Alex Preston.
It is not that anyone disagrees that the Russian state's treatment of the women Pussy Riot is absurd and the sentences draconian: there is consensus on this among those on both sides of the debate political spectrum that I meet. It is that, as with any situation when it is taken away from the newspapers and placed in the heart of real life, nothing ends up being as simple as it seems.
It would take more space than I have here to outline the complex nexus of attitudes I find surrounding Pussy Riot.
Sufficient to say this: I had expected to find an intransigent, state-dictated line spouted by most I met, with an equally vociferous minority fervidly protesting. Instead I find, on both sides, enormous subtlety, intelligent equivocation, nuance. I'm like a man charging to break down a door who finds the door has been opened while he wasn't looking.
Perhaps, I realise, this is what soft power does: takes us into the experience of others, just as books do; helps us to see how vast and intricate and elusive real life is.
My father was in Moscow in the early Seventies. The copy of A Hunter's Sketches that was my introduction to Russian literature was given to him by a friend from those days. The notes, the title, were all in Russian, only the text was in English. It was a language student's copy. My dad said the reason he loved Russia so much was because he'd found a nation that valued literature as much as he did.
In the taxi to the airport, I listen to my new favourite band, Obe Dve. They're like a Russian Arcade Fire. I pat the pile of books on the seat beside me which contains some old favourites – Dead Souls and Resurrection – as well as some new names: Dmitry Bykov, Ludmila Ulitskaya, Olga Slavnikova.
I give a little nod to the golden domes of the Cathedral of Christ the Saviour as we pass. Seeing my novel - 'Кровоточащий город' (This Bleeding City in Moscow bookshops has been one of the great moments of my writing life, but it has been the people – the young, book-mad Muscovites I've met – who will stay with me, who have created this cord that, wherever I go, knits me to Moscow.
As soon as I land in the UK, I begin to plan my next Russian adventure.
Alex Preston is the author of This Bleeding City and The Revelations (Faber and Faber).
All rights reserved by Rossiyskaya Gazeta.