Literary guide to a city of high culture and quirky modernism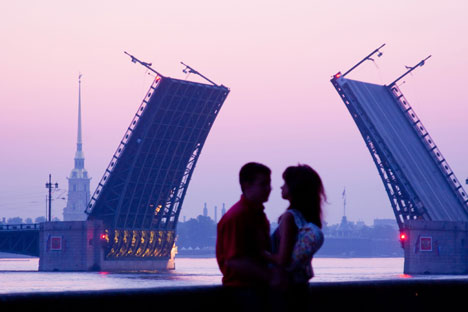 "I love thee, city of Peter's making;/ I love thy harmonies austere,/ And Neva's sovran waters breaking/ Along her banks of granite sheer," - wrote Pushkin about St. Petersburg in his poem "The Bronze horseman". Source: Alami / Legion media.
St. Petersburg City-pick book takes extracts from more than 60 writers' work to create a portrait of a fascinating city.
"Floating, lyrical, miraculous Petersburg… beauty built on bones, classical façades that cradled revolution, summers that lie in the cup of winter." These words, from Helen Dunmore's novel The Siege, set the scene for the St. Petersburg City-pick book, which takes extracts from more than 60 writers' work to create a portrait of a fascinating city. They include fiction, history, memoirs, letters, travel writing, diaries and journalistic excerpts.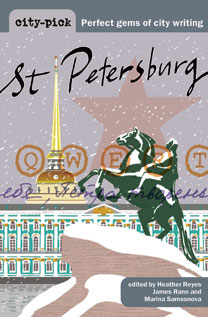 Cover of St. Petersburg City-pick
Divided into nine sections, most aspects of St. Petersburg of interest to visitors and armchair travellers are covered. However, the only mention of food refers to its absence in the city's hard times – indeed, the city portrait doesn't opt only for the beautiful and romantic.
A logo at the beginning of the book reads "Russian Culture Now", which is apparently the mission of Academia Rossica, which has formed a partnership with Oxygen Books for this project. With this in mind, the great Russian classic writers – Pushkin, Tolstoy, Dostoyevsky, Gogol, Goncharov – have a token presence, while modern writing and quirky discoveries dominate.
My favourite is Truman Capote's The Muses Are Heard. In 1957, Capote accompanied a US opera company on a cultural exchange, bringing Porgy and Bess to Russia. When Cold War Leningrad meets US wealth and exuberance, the result is entertaining and illuminating.
There are enjoyable extracts from Malcolm Bradbury's last novel, To the Hermitage, Duncan Fallowell's One Hot Summer in St. Petersburg, and Sacheverell Sitwell's charming evocation, in Valse des Fleurs, of a day in the city in 1868 – written at the height of the Second World War and without ever having set foot in the place.
There is some lovely writing from old Petersburgers, such as exiles Nobel laureate Joseph Brodsky and Vladimir Nabokov: the latter's evocation of "the sepia gloom of an Arctic afternoon" invading his childhood home is particularly haunting.
Contributors from the worlds of music, ballet and film include Shostakovich, Prokofiev, Pavlova, Karsavina and award-winning film-maker Alexander Sokurov. Writers that may be less familiar to British readers, though household names in Russia, include Andrei Bely, Yevgeny Zamyatin, Andreï Makine and Sergei Dovlatov.
Some of the most moving writing, perhaps inevitably, is devoted to the darkest time of the city's history, the 900-day siege of Leningrad during the Second World War. Writing by Helen Dunmore, Gillian Slovo, Debra Dean, Elise Blackwell and Sarah Quigley is set beside documentary evidence and survivors' accounts.
Part city guide, part literary map and illustrated reading list, the anthology will not tell you where to stay or eat, but it will help you understand the city. It doesn't restrict itself to the obvious city-centre sights, but also covers less familiar locations, particularly in the interesting recent writing unearthed by Russian co-editor Marina Samsonova. Some of this has been translated especially for the anthology.
As well as gems such as Andrei Astvatsaturov's account of spending one's youth in the boredom of the "desirable" new residential areas in Skunskamera (2010) and Andrei Bitov's humorous take on ballet, there are a number of translated extracts from the excellent St. Petersburg as Cinema (edited by Lubov Arkus): it's a shame this book is not yet available in English.
Tim Stanley's piece on the city's contemporary art scene is informative, while recent visits by journalists Miranda Sawyer and Viv Groskop ensure that the reader is given a feel for what is becoming, despite its impressive architectural and artistic heritage, a very 21st-century city.
"St Petersburg: City pics" was published in Oxygen Books 2012, edited by H. Reyes, M. Samsonova, J. Rann.
All rights reserved by Rossiyskaya Gazeta.