Chilling Science Fiction for the Facebook age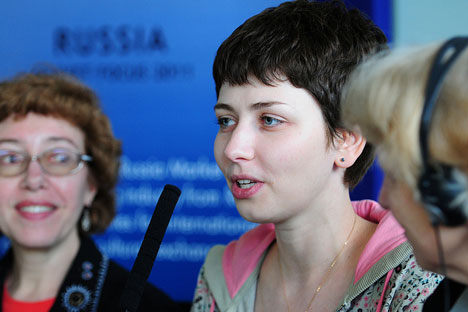 Starobinets first book "An Awkward Age" (Hesperus Contemporary, 2011) was a collection of creepy horror stories; in both cases, the genre is a vehicle for the author's unsettling ideas. Source: British Council Russia.
Anna Starobinets' novel "The Living" is a baffling, satirical prophecy on a futuristic world that doesn't appear too unlikely in this digital revolution era. Phoebe Taplin reviews it for RBTH.
Anyone who has ever been alarmed by the pace of the digital revolution will find Anna Starobinets' novel disturbing. "The Living" of the title is the single entity that futuristic humanity has become: exactly three billion people connected via cerebral computers which enable them to communicate simultaneously on numerous levels even while they are asleep.
The virtually omnipresent Socio network resembles Facebook; users collect friends and can like, share or chat, but the resulting dystopia has more sinister features. Life is compulsorily terminated at sixty via a visit to the Pause Zone. Five seconds later the deceased will be reincarnated, often in the orgiastic Reproduction Zone of the same Festival.
A pregnant woman learns that her "festival baby" has no incode, making him the only person who is not part of the Living; he becomes known as Zero. The novel is, mostly, Zero's story, but in true postmodern style, Starobinets has created a patchwork of text messages, letters, songs, transcripts of interrogations and diary entries, building a deliberately fragmented picture from multiple viewpoints.
James Rann's translation admirably transfers this challenging matrix of narrative and neologism into fluid English. Some invented words, like the insult "Gopz" ("GO to the Pause Zone"), are summarized in a glossary at the end. There are even new colors with names like "inviz" or "feeling lucky."
The basic premise of Starobinets' dystopia is not particularly original. There is the standard vague, post-apocalyptic scenario (which has roots as far back as the legends of the flood); it is referred to in this case as the Reduction and aided by the axe-wielding "Butcher's Son," whose subsequent incarnations are locked in a glass-walled cell.
Eugene Zamyatin's "We" and other early sci-fi novels helped to found a literary tradition in which future autocracy controls the populace. There are shades of "Brave New World," but also of E.M Forster's prescient 1909 novella, "The Machine Stops," in which people have become fatally dependent on technology and rarely leave their individual rooms, spending their time messaging each other.
Starobinets takes this now all-too-believable scenario and runs with it. Real life (known as "first layer") has become far less interesting and appealing than the unlimited instant possibilities available in the virtual world known as luxury.
Computer viruses and loss of contact with reality are threats in this universe, but Starobinets mainly targets those who unquestioningly support dictatorship. Policed by officers known as planetmen in mirror masks and bombarded with propaganda, there are still a growing number of dissidents among the Living. The political choices between reform and repression are topical, especially in Russia.
Starobinets first book "An Awkward Age" (Hesperus Contemporary, 2011) was a collection of creepy horror stories; in both cases, the genre is a vehicle for the author's unsettling ideas. A nightmarish novel like "The Living" has the potential to start cults; it would make a great film and deserves a wider audience. Sadly the final sections lose their way slightly. The narrative becomes ever more bafflingly labyrinthine, like someone recounting a disjointed dream or a bad trip. Brain surgery, drug-induced cruelty inspired by the intravenous venom of the bakugan beetle's larvae, or insect cybersex in a virtual termite mound, are just some of the chimeras appearing in the last pages.
There are still some powerful images from contemporary digital discourse and the end has a weird inevitability. One whistle-blower is reprogrammed into a useful troll, mindlessly supporting the status quo: "I am happy to report that no violations or abuses of power were discovered in the work of the SPO [police]," he parrots. Starobinets' inventive use of language and her teeming, uncompromising imagination have created a world in which satire and prophecy collide to chilling effect.
All rights reserved by Rossiyskaya Gazeta.