A captivating blogger poet makes her London debut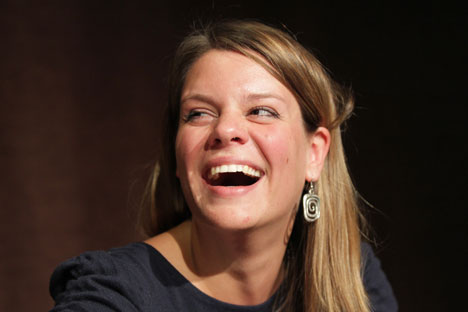 Now the 27-year-old Vera often seeks inspiration in far-off lands and cultures. She recently returned from India, from where she seems to have discovered a certain eastern reasoning concerning the ordering of the world. Source: ITAR-TASS
Riding the wave from unknown blogger to charismatic poet, 27-year-old poet Vera Polozkova shows why she is a sensation in Russia.
The 4th annual Slovo Festival of Russian Literature held in London in March was as accessible as it was grand in scope. The widely feted poet and performance artist Vera Polozkova, who was invited to headline the festival, set a magical tone. Polozkova appeared at the opening like a capsizing wave, her full-length dark blue dress set off by enormous expressive eyes, the epitome of femininity. As she began to beat out her crisp, incisive verse, her sharp, almost masculine mind flashed like a serrated blade.
People compare Vera Polozkova's recitals to a rock concert - such is the force of the outpouring of feeling between the artist and her audience. Her verse works like short film clips about far-off lands and hot islands. She tells fleeting, exotic tales that bring to mind the captivating charm of Nikolai Gumilev and his poetic musings about Africa. In Polozkova's case, however, there is no apparent attachment to places, as her focus lingers on her cinematic subjects (with names like Manou, Joe, Lou) and the elusive elements that form relationships: melancholy; human understanding and miscomprehension; craving for love and fear of it; gentle gestures; and smiles forming from the corners of a mouth.
These accounts of people with foreign-sounding names are like a mini-show in which she is writer, director and performer. The poet also admits with a twinkle that foreign names offer her a certain freedom and enable her to escape questions from the audience like "My name is Katya, why did you decide to write so harshly about Katya?!"
Polozkova has become increasingly known for her dramatic monologues, which are caustic, witty and wrenching; they are also deeply conversational, and sound like the interior monologues of young, educated women of the 21st century. Born to a rapid and punchy modern rock rhythm, Polozkova fires off phrases like arrows, eschewing mysticism and imparting a clear message devoid of frills. Her words are astonishingly precise and resonant.
Source: Youtube / Sergei Sarakhanov
Polozkova is most frequently likened to the great poet Joseph Brodsky, for her intelligence, her precise imagery and her rhythmic meter. Words for her are "a powerful force and magic," the poet once revealed in an interview with Rossiyskaya Gazeta. "I am a perfectionist. My consciousness nurtures the concept of a certain universal order; I have dreamed about this my whole life. And poetry is also an attempt to establish metaphysical order."
Vera Polozkova had studied in Lomonosov University's Faculty of Journalism in Moscow. Her work was soon published in glossy magazines, but then just three months before her graduation the diligent student suddenly quit university. The blogging culture was just appearing in Russia at the time, and Polozkova published her poetry on her personal blog titled "Miss Understanding." She instantly drew a readership of thousands and went on to become one the most popular poet bloggers on the Russian Internet. She has since published three books, received several literary awards and started to act in the theatre.
Now the 27-year-old Vera often seeks inspiration in far-off lands and cultures. She recently returned from India, from where she seems to have discovered a certain eastern reasoning concerning the ordering of the world.
Vera Polozkova's appearance at the Slovo Festival was also her London debut. As she gave a dramatic reading of about the sea, a saxophone emitted the sound of the tide. Three musicians accompanied her verse; each improvised behind her to emphasize and riff off of the drama of her words. They played when instinct prompted them, creating a fusion of feeling and rhythm, flawlessly performed to the verse. The entire hall was tuned into the same frequency, into a wave called Vera.
Vera Polozkova 'And it may be not God'
And it may be not God but someone like His designee
Taking you to his face as his eyes aren't keen to see,
Like a dried dead bee, like a pebble naked -
His breath rich like liquor of well tested quality,
Like a thick old spirit of wonderful quality -
And extending a "happy belated"...
What's belated?
All is belated.

Scratching you at the corner and rolling you on his palm –
Curly hair of tea,
The forehead of milky balm,
Helpless clavicles stick out so open and so clear.
Move your eyes to look down – the clouds are quiet and calm,
Far beneath you they drift nonchalantly, swaying some.
Nothing happens to you
On from here.

Well, so hi, here is God and I'm His commander at war,
I was picky when choosing to call you out the door,
And so took you with all your stuff
And possession,
Human mineral that's all traversed by vein and pore,
Why, you look in a strangely astonished fashion,
Like you haven't died
Ever before...
Translated by Evgeniya Sarkisyanz, 2012

All rights reserved by Rossiyskaya Gazeta.