Literary voices get a new stage at RBTH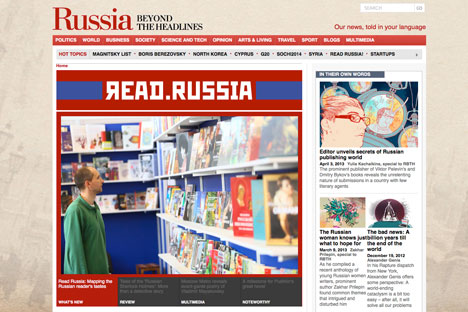 Just in time for the London Book Fair, Russia Beyond the Headlines is launching a revamped Read Russia special section at rbth.ru, and an illustrated brochure "Voices of Read Russia", available both in print format and online
For generations, Russia's greatest export has been its writers. Exploring and examining these treasures from the past and guiding you into the 21st century is both our mission and passion at Russia Beyond the Headlines.
Now, with the new navigation tools introduced in the Read Russia special section, you can view all our literary updates at first glance.
RBTH critics and contributors review the newest translations of the most powerful Russian books, speak to today's authors, and find, once again, that they take the temperature of the country. We can't yet divine who's the next Tolstoy, Chekhov or Dostoevsky, but one thing is clear: whoever he (or she) is, you can find this writer featured within our project.
To sate your desire for the classics we find precious gems of the 19th and 20th centuries that have garnered less attention than they deserve.
We also give Russian writers and top fiction editors an opportunity to speak for themselves In Their Own Words. And they always have something to say.
We especially want to highlight Read Russia's multimedia rubric, where you can imagine you are in a Moscow coffeehouse as you listen to literary audio and video podcasts, and enjoy our state-of-the-art photo galleries.
In the new blog Personal Best, RBTH editors and contributors share their passion for reading and the Russian books that made them feel at home in this dynamic, epic country.
Join us at rbth.ru to celebrate the rich diversity of voices coming from Russia, a place where a writer is always more than a writer.
A new issue of "Voices of Read Russia" edition highlights the key trends in modern Russian literature, featuring popular authors such as Mikhail Shishkin, Viktor Pelevin, Ludmilla Petrushevskaya and many others.
The issue will debut online soon; the print version will be available at booth Y455 at the London Book Fair. The next edition of digital application of "Voices of Read Russia" will be available for download at App Store and Android Market at the beginning of May. The previous version of the application for iOs and Android you can download right now.
All rights reserved by Rossiyskaya Gazeta.