Reading Zamyatin beyond dystopia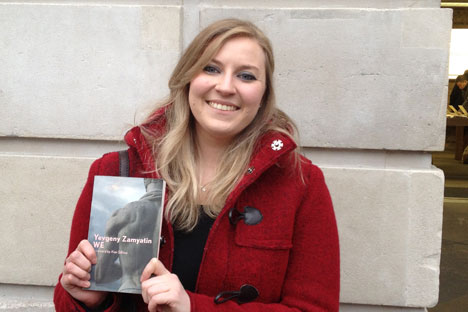 Ilaria considers women characters in Zamyatin's dystopia 'We' typically Russian. Source: Personal Archive
Ilaria Parogni, RBTH Director of Social Media and Community Engagement, is impressed by the women of "We".
I first approached "We" by Yevgeny Zamyatin intrigued by its status as the original modern dystopian novel, forerunner and inspiration to the likes of George Orwell's "1984" and Anthony Burgess' "A Clockwork Orange". As I proceeded to read the book, however, I started looking for that unique element that set the book aside as intrinsically Russian. I find my answer in the way in which women are portrayed.
The plot in "We" is basic – a man who has never questioned the diktats of the world he lives in meets a woman, falls in love and undergoes an internal crisis that leads him to a failed attempt of betrayal of that rule of conduct he has always stood by. It is the characterisation of individuals, however, that makes this an extremely compelling reading. Even though the main character and narrator is man of science Δ-503, the male universe is often left in the background or portrayed as inept and helpless.
On the other hand, the feminine element shines through the narrative in a way that is typically Russian. The women in the story are characteristically resolute and independent, two qualities Russian womankind is well known for. Whether we are looking at the maternally and eponymously rounded O-90 or at I-330, the seductive woman who wins the heart of the main character and introduces him to the revolutionary underground movement, their actions and words are always pragmatic and disarmingly direct. And they are not afraid of making brave choices.
O-90 is surprisingly forceful in her plea that Δ-503 impregnate her; later she is not afraid of abandoning her beloved yet cruel One State, which would require her to give her baby up to the community. I-330's refusal to forsake her values even under torture remains one of the most memorable and heart-breaking scenes in the book.
The women of "We" are its humanising and qualifying element: by the time you are introduced to their characters, they have already won you over.
All rights reserved by Rossiyskaya Gazeta.