Gothic tales from Russia haunt the imagination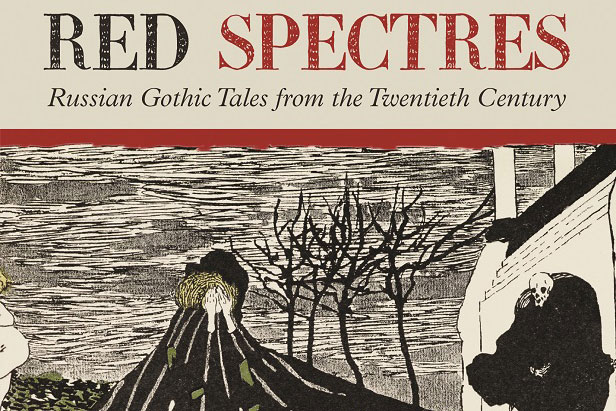 Muireann Maguire has done English-speaking readers a great service in selecting and translating these neglected Gothic works, and bringing them to international attention.
'Red spectres' selected by Muireann Maguire, Overlook, 2013
Obsession, possession, insanity, incest and horror wander through the pages of "Red Spectres," an erratically brilliant collection of Gothic short stories from 20th-century Russia. In the opening tale, a woman's reflection in a mirror "seized me by both hands and wrenched me towards her," plunging the unhinged narrator into a terrifying world of shadows. These stories do the same to their readers, haunting the imagination on many different levels.
Valery Bryusov's pre-revolutionary gem "In the Mirror"(1903) shows that the genre was not only a response to the nightmarish phantoms of Soviet life. But most of the other stories here were written the 1920s and use images of supernatural or psychological disturbance to reflect the contemporary world. Only two of them have appeared in English before.
In her conscientious introduction, Muireann Maguire explores historical and literary contexts and observes that Gothic stories often appear at times of cultural upheaval: "Russia by the mid-1920s had endured two revolutions…and a shattering civil war…" But – as responses to living in a time of frightening change – these tales also "transcend the specificities of the Soviet era."
The mysteries of madness and mortality, a "dread and fascination with technology," ghosts, grotesques and monsters are all generic features, their shades and tentacles reaching back to Mary Shelley's "Frankenstein" and beyond, and forward into contemporary horror. With a population of flame-haired Siamese twins, zombie fetuses or mad scientists, these stories explore life and death, town and country, crossing continents in the turn of a page, visiting a factory in Heidelberg or death row in Sing-Sing. One recurrent and suitably gothic setting is Venice, "great city of masks, ghostly mirrors, silent doges…"
Mikhail Bulgakov is the only writer represented here who is already well known in the west and several of the tales are reminiscent of his disturbing, mid-1920s sci-fi. The compelling images of tortured, murderous rat-men, in "Professor Knop's Experiment" by Pavel Perov, prefigure Bulgakov's novella, "Heart of a Dog," written the following year. More profoundly, Aleksandr Chayanov's "Venediktov," published here for the first time in English, directly influenced Bulgakov's "The Master and Margarita."
Set in a foggy, spectral Moscow, "Venediktov" has a similar cast of powerful demons and supernatural gamblers. Pornographic playing cards or satanic rituals involving blue fire and excrement represent the uncontrollable political forces distorting the everyday world. Like Bulgakov's masterpiece, this fable has a distinctly Soviet flavor (the protagonists flee by troika "without even our documents"), but its metaphysical questions are still topical.
Anxiety about technological developments is a theme whose relevance has only increased as the world speeds headlong into an unknown future. Aleksandr Grin's "The Grey Motor Car" grapples deliriously with what Virginia Woolf called "the crowded dance of modern life."
The narrator is on his way to the cinema to see the "convulsively jerking shadow thrown on a screen" when the "blind white headlights" of a car rush past. Through his eyes, we experience a Kafkaesque world of metallic monsters, "gigantic beetles…nightmarish machines," "blank-faced people in bowler hats" and "repulsive automotive swiftness." The city is alive and malign, violating the senses; cubism represents "the Machine's visual impression of Man."
The stories in this collection provide both vivid explorations of futurism and intriguing introductions to the underappreciated work of several powerful, modernist writers.
"Red Spectres" was published in the United States by Overlook in April, 2013. It appeared in the United Kingdom last year (Angel Classics, 2012).
All rights reserved by Rossiyskaya Gazeta.