Awarding the writers living abroad, writing in Russian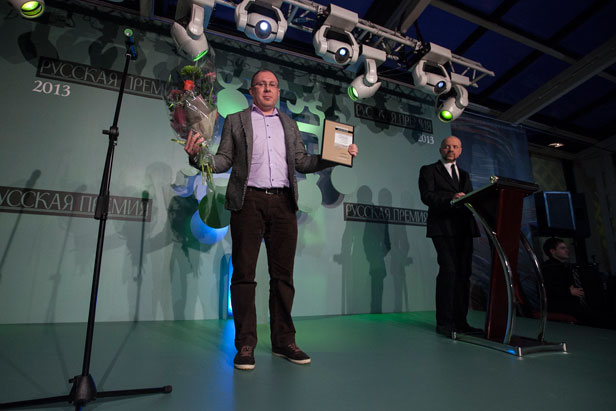 Oleg Dozmorov, a London-based author, won Russian Prize. Source: Anatoly Stepanenko/Russian Prize
The eighth annual Russian prize celebrates authors far from the motherland took place in Moscow.
There is no drought of literary prizes in the country that rains great literature: Among the top five awards here is the "Russian Prize" for international literature written in Russian, which recently announced its 2013 winners at a Moscow ceremony. Writers living in Australia, Belarus, the United Kingdom, Germany, Denmark, Kyrgyzstan, the United States and Ukraine were recipients this year. More than 400 authors entered the competition from around the world.
The international literature award Russian Prize www.russpremia.ru was founded in 2005 with a view to preserving and promoting the use of the Russian language and supporting Russian-language writers living in foreign countries.
Oleg Dozmorov, who won first prize for poetry, lives in London. Dozmorov, who published a recent anthology of Russian poetry with the Moscow-based publishing house OGI, told RBTH that he misses the Cyrillic alphabet. "You only see Roman letters when you ride the Tube and look around at the books that people are reading, and you feel as if you're from a different planet," he said.
Dozmorov is certain that "when you live in a different culture, your native language is the only thing that identifies you. There is the notion of 'identity' that is defined by your language, rather than your native birch trees and childhood memories. 'The poet is an instrument of language' Joseph Brodsky once said. Language is the instrument of the poet in exactly the same way."
The Russian Prize supports Russian-language writers living in foreign countries. Source: Anatoly Stepanenko/Russian Prize
The other winners in the poetry category are Vyacheslav Shapovalov, a translator of Turkic and European languages who lives in Kyrgyzstan. He was recognized for his collection of poems "Euroasis." Anna Glazova, who lives in Chicago and Hamburg, Germany, won with her collection titled "For a Shrew." Glazova, a poet and translator of Paul Celan and Osip Mandelstam, earned her Ph.D. in Comparative Literature from Northwestern University and has since taught German studies at Northwestern and in Germany.
Glazova's poetry is available in English. In 2008, Shearsman Books published her collection "Twice Under the Sun." Glazova's poetry is also included in the 2013 collection "Relocations: Three Contemporary Russian Women Poets" published by Zephyr Press.
Marianna Goncharova of Chernivtsi, Ukraine, won the best short story prize for "A Dragon from Perkalaba: A Tale of Vladka." Goncharova's books are popular in Russia. "Frankly speaking, I didn't expect it. And today, the chief editor of the Znamya magazine came up to me and said: 'It's literature. There are some things that I would take pains to edit. But nevertheless, it's literature.' Those are his words," Goncharova told the Voice of Russia.
Katia Kapovich, born in Moldova and now living in Cambridge, Mass., has published nine volumes of poetry in English and Russian. Because of her involvement with a samizdat dissident group, she was unable to publish her work in the Soviet Union; she immigrated to the United States in 1992. Kapovich won second prize for her book of short stories "Two is Company."
Elena Shubina of ACT, one of the best-known book editors in Russia, said that she "loves Kapovich for the precision of her reflection. To depict a human being who feeds on the memories of two countries is exceptionally difficult, but the author delivers." Mikhail Shelekhov, a prose writer, poet, translator and playwright from Belarus, won third prize.
Vladimir Rafeenko of Ukraine won first prize in long-form fiction for his work "Descartes' Demon: A Dream Novel." Yevgeny Klyuyev, a poet, writer and linguist from Denmark, won the second prize for "Translit: A Loop Novel." Of all the prizewinners, he is probably the best-known author in Russia. Many readers fell in love with his books published as the Soviet Union was collapsing around them, starting with the marvelous novel "Between Two Chairs," a riveting psychological ride.
This year the book of Alisa Khantsis will be published in Russia. Source: Anatoly Stepanenko/Russian Prize
Alisa Khantsis of Australia won third prize for "Roses Languish in January Heat." Khantsis told RBTH that her new country became an inspiration for her: "I had never dreamed of writing a novel. I used to like the little nothings, brief glimpses. But when I came to Australia, I started reading about the history of Australia and wanted to read a book about the history of Melbourne. I never found one, though, so I decided to write one," she said.
"I took four years and read a ton of books. You can call this novel a guidebook, albeit a guidebook that is 100 years old. This year the book will be published in Russia, but I hope it will be translated into English someday," Khantsis added.
Alexander Chernosvitov, the founder and director of the Alexander Pushkin Foundation in Spain, won the steering committee's prize for "contribution to the preservation and promotion of Russian cultural traditions beyond the Russian Federation. The prize was presented by the famous Russian director Vladimir Spivakov, who said that he witnessed Chernosvitov's strengthening of humanitarian relations between Russia and Spain when he worked in that country.
All rights reserved by Rossiyskaya Gazeta.