Ellen Litman: "Sitting on suitcases felt surreal"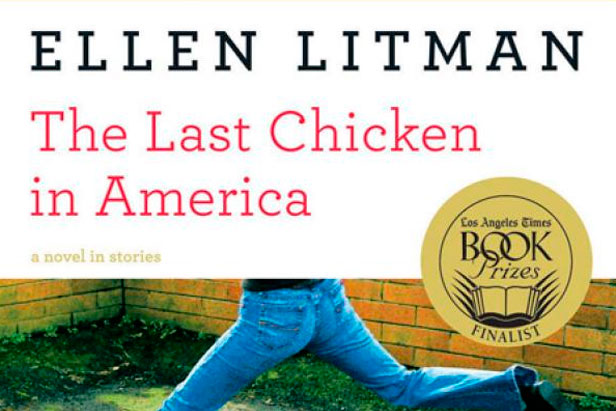 Litman, who arrived in the U.S. two decades ago, lives in rural Connecticut where she is the associate director of the creative writing program at the University of Connecticut. She is just completing her second work of fiction.
The Last Chicken in America, by Ellen Litman. Source: Amazon.com
Ellen Litman wasn't exactly excited about moving to the United States. "My parents were scared [about life in Russia]," she recalled. "We had an opportunity to immigrate because my mother's sister lived here, and we seized it." Now, twenty years later, she says she better understands her parents' decision.
Ellen still recalls her first impressions. The one- and two-story buildings of Pittsburgh with their thin walls seemed rather shaky and unsteady compared to concrete block buildings in Russia, she thought. In fact her new world seemed anything but secure. "Sitting on suitcases in the lobby downstairs felt completely surreal," Litman said. "You were across the world from were you were from. It was very freaky."
"It was going into the unknown," Litman said, adding that she was heartbroken when she left her friends, and left Russia. It took her at least two years to come to terms with this dramatic change.
"The first year was really tough, I was lonely, I missed my friends, it was to hard to find a place where I fit in with this new society," the writer said. Her whole family was struggling to try and re-invent themselves. "It felt like totally losing a sense of who you are as a family. It was pretty tough."
Gradually, life improved. By her mid-twenties, almost a decade after she arrived, Litman began to feel like she belonged to this new place: "Once I moved away from my family for my first job in Baltimore, it became my own world. No Russian friends or community. I worked a lot, lived by myself."
Writing a new life
"I always wanted to write, but back in Russia it was gently explained that as a Jewish girl, to put it mildly, I didn't have many chances to get it out there," Litman said. So she became a software developer in Boston. Much to her surprise, she discovered in college that she was very good at anything that required any kind of writing – in English. "I started to get a sense that though I needed to improve my English I still had my ability to tell a story. Suddenly, it didn't seem impossible any more."
Litman would wake up at 5:30 am and write for a couple of hours before leaving for work. She applied to the creative writing program at Syracuse University and was accepted to the three-year program. "It was great because your main job there was to write," she recalled. "That was hugely important and helpful."
Her first book "The Last Chicken in America" (W.W. Norton and Co.) consists of twelve interconnected stories set in Pittsburgh. (Litman subtitled the book "a novel in stories." The book is based largely on Litman's experiences as well as the lives of people she knows. Some of the stories included in "The Last Chicken in America" earned Ellen Litman a Rona Jaffe Foundation Writers' Award for emerging female authors. The book was also a finalist for the Los Angeles Book Prize.
When her book was published, Litman was a focus of immigrants' attention; they wanted to discuss their experiences with the writer. "I was on a reading tour, and in San Francisco a group called 79ers approached me. They had all emigrated from [the Soviet Union] as children and had to figure out what it is being Jewish while figuring out what it is to be an American. They wanted to learn about their left behind homeland, to be in touch as much as they could. It was fascinating."
Since leaving Russia in the 1990s, Ellen Litman has never been back, though she has kept in touch with school friends and relatives. Her first book was not translated into Russian, but now, she is completing a novel, one she hopes Russian readers will have a chance to enjoy in their native language. "It's a coming-of-age story that takes place during the early perestroika years in Moscow" she said, adding that the work "is set in a non-traditional boarding school for children with spinal abnormalities."
The biggest adventure of her life so far was moving to America, she recalled. Many years later, she says she feels as if she is still processing the dualities of her existence, and tries to imagine what her life would be like if she had stayed: "At some point I'd like to go back [to Russia] and maybe write a non-fiction book."
Litman lives in rural Connecticut where she is the associate director of the creative writing program at the University of Connecticut. "I try to speak Russian with my three-year old daughter but I'm not very consistent," Litman added. "I try and read to her in Russian, she knows some words, we watch cartoons. She loves to sing songs, for example, 'It's a pity that a birthday is only once a year,' or 'Nothing in the world is better than wonder with friends around the world,' although she doesn't understand half of the words."
All rights reserved by Rossiyskaya Gazeta.