Travelling around Russia with two Soviet co-writers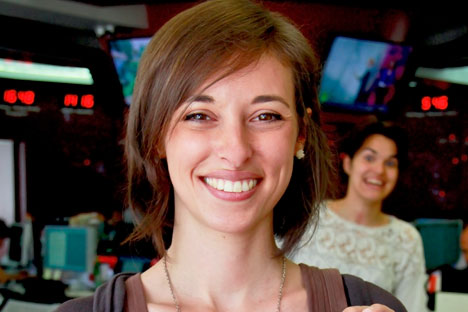 Lucia Bellinello, RBTH's assistant editor, talks about Soviet satire and humor in her favorite Russian book.
Lucia can't remember when she laughed so much while reading. Source: Personal Archive
It's not often you find yourself laughing in the middle of a crowd while reading a book. The Twelve chairs by Ilya Ilf and Yevgeny Petrov, with its overwhelming wit, has the ability to unleash smiles and laughter.
The novel was co-authored by the two authors from Odessa and first appeared in 1928. It is a biting satire of society in Soviet times, a quaint representation and harsh criticism of everyday life.
"When you have two people writing together, it does not mean that it is twice as easy to write. In fact, it means that it becomes ten times more difficult," admitted Petrov after the death of Ilf. Every word and every single sentence in the novel is the result of a joint effort. Their hands and the ink bottle became an extension of a single creative mind – to such an extent that the two writers ironically started considering themselves a single author with two surnames, Ilf-Petrov.
The novel, which is almost unknown outside Russia, takes the reader on a journey to find twelve chairs, which hide a treasure of inestimable value. While travelling across most of Russia with the book's flamboyant heroes, the reader meets picaresque, funny, and at times utterly hilarious characters. We travel across mysterious parts of Russia, from the Caucasus to Crimea, from Moscow to the Volga. Together with the heroes, we are drawn into a mosaic of colourful places, which aptly convey the Soviet atmosphere – with just a hint of irony.
All rights reserved by Rossiyskaya Gazeta.