BBC to squeeze War and Peace onto the small screen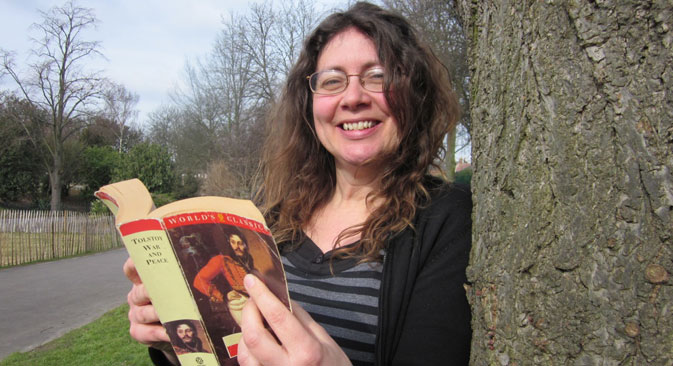 Barabara Claessens has read 'War and Peace' four time. Source: Personal archive
The new serial has gotten international fans, and critics, talking about its epic potential.
The BBC has commissioned a new drama serial based on Tolstoy's epic novel "War and Peace." Andrew Davies, who has adapted numerous classic novels, is preparing the script for a six-episode series to appear on BBC One in 2015.
"Andrew Davies will bring his exceptional powers of adaptation to this literary masterpiece," said BBC One Controller Danny Cohen. In Cohen's view, the "truly epic" scale of the novel shows the BBC's commitment to "drama of the highest quality and impact."
"War and Peace" follows the interlocking stories of four aristocratic families in the periods before, during and after Napoleon's invasion of Russia. Executive producer Faith Penhale said: "Today's audience will be drawn into the sweeping story of life and love during a time of conflict, with a dazzling production that brings to life the great vision and scale of the novel."
Tolstoy's novel has become a popular byword for copiousness. UK Chancellor George Osborne recently joked to CNBC at the G-20 meeting in Moscow that Tolstoy was a better read than the byzantine British tax rules, which (as several newspapers had pointed out) are "ten times longer than 'War and Peace.' "
For die-hard British fan, Barbara Claessens, who has read the book four times, "War and Peace" is in a league of its own "because it encompasses so much of human experience in one novel, everything from a young soldier the night before a battle to illicit love affairs." Claessens feels that the novel's reputation intimidates some British readers who are "put off by its size and large numbers of characters with complicated names." Claessens spent three and a half years living in Moscow, near "Maidens' Field" which features in the novel and has a huge monument to Tolstoy.
"In Russia, 'War and Peace' is an easy read," Claessens said.
Irina Shumovitch, who grew up in Saint Petersburg and has lived in London for thirty years, doesn't quite agree. "I have to confess I've not re-read it because it is so big," she said, "and when I read it at school in Leningrad I skipped all the bits about war because I found the love story fascinating." But she does feel that Russian readers are likely to understand the novel more intimately: "we know where the characters are from."
Lovable heroine, sexy stars
Andrew Davies said Natasha Rostova is "the most lovable heroine in literature," putting her ahead of Jane Austen's Lizzy Bennet. One of Davies' most popular adaptations was a 1990s version of "Pride and Prejudice," the series in which many women first noticed Colin Firth, especially in the famous "Lake Scene." He called "War and Peace": "a thrilling, funny and heart-breaking story of love, war and family life" with characters who are "natural and human and easy to identify with."
"It is a period drama not unlike 'Pride and Prejudice,'" said Shumovitch, "with its nineteenth century setting, landed gentry and love stories. The mindset differs, but the milieu is similar. I will certainly watch it and my friends will because, as émigrés, we are fascinated by this point where British and Russian cultures meet and how Brits interpret a Russian emotional journey."
British public reaction to the news has varied. There is widespread delight at the rumor that the new adaptation will feature handsome, "Les Miserables" star Eddie Redmayne; "Suddenly I have a HUGE interest in War & Peace!!!" gushed one reader commenting in the Daily Mail.According to other comments, though, itis "one of the most boring books ever written" or "a brilliant book. You can use it to reach light bulbs, paint the ceiling, dust cobwebs."
Read about Tolstoy from the expert:

How Tolstoy wanted to reform Russian education
Conversely, Guardian-readers complain: "Christ, the BBC are even dumbing down Tolstoy."
There have been several attempts to dramatize the novel. Long before Sergei Bondarchuk's version produced by Mosfilm Studios in the 1960s, there was a 1915 Russian film, starring ballerina Vera Karalli as Natasha. Hollywood paired Audrey Hepburn and Henry Fonda in the 1950s and the BBC last adapted "War and Peace" in 1972, with Anthony Hopkins as Pierre. "It was the original BBC adaptation that made me fall in love with the book," said Claessens. "We all watched it as a family on a Sunday night."
"Oh, and there's some war"

Andrew Davies will have to cut much of the novel. The long philosophical sections will go and the battle scenes are likely to be abbreviated. Tolstoy extensively researched the period, but he also had first hand experience of the Crimean War. "It's obviously written by a person who has been a soldier himself," said Claessens, adding: "the more you read it, the more you realize the war bits are just astonishing."
The Independent on Sunday's "blagger's guide" to "War and Peace" echoed the common view more closely when it summarized the plot: "Pierre is nice but poor. Andrei is a prince but married to a flibbertigibbet. Everyone fancies Natasha, lots of people get engaged, some of them have affairs … Some people die. The ones who are left get married. Oh, and there's some war."
All rights reserved by Rossiyskaya Gazeta.