Some writers are so consumed by their art that their families are eclipsed, while other writers manage an enviable closeness with their loved ones. On the occasion of Father's Day, RBTH recalls what kind of fathers the great Russian writers were and what became of their children.
Boris Pasternak (1890-1960)
Nobel prize-winning poet and writer Boris Pasternak had two sons. The eldest, Yevgeny, was the son of Pasternak and his first wife, artist Yevgenia Lurye. The youngest, Leonid, was born to his second wife Zinaida Neuhaus.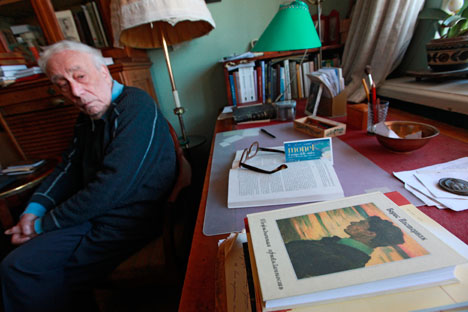 Yevgeny Pasternak is the eldest son of Boris Pasternak. Source: RIA Novosti
Little is known about the poet's youngest son, Leonid, who died at the age of 38. Researchers of Pasternak's work draw parallels between his death and that of Yuri Zhivago, protagonist of the novel "Dr. Zhivago." Soviet authorities banned the book, and Pasternak was forced to reject the Nobel Prize for literature in 1958.
Pasternak's eldest son Yevgeny regarded his father's departure from his first family, when the boy was three, as the greatest disappointment of his life. But Boris maintained good relations with his first wife and often visited his son.
Yevgeny went on to become a military engineer while also devoting many years to literary studies and collating his father's legacy. He also wrote the first biography of Boris Pasternak.
Mikhail Sholokhov (1905-1984)
Father to four children, the Nobel-Prize winner Mikhail Sholokhov was considered a model family man. He spent the greater part of his life in the village of Veshenskaya. He even used the proceeds from the Lenin Prize, received for the novel "Virgin Soil Upturned," to build a school there.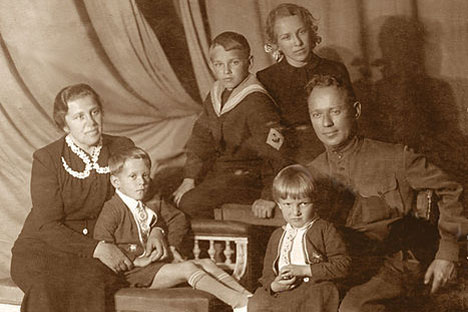 Sholokhov with family. Pictured l-r: wife Maria, son Misha, Alexander, daughter Svetlana and Masha (near the writer). Source: wikipedia / G.Veil
His children grew up "very freely," wrote his eldest daughter Svetlana: "He loved us. He never forced his views upon us, never interfered with advice. Even when we asked him for some, he would say: you have a head of your own on your shoulders. We grew up very freely, no one watched over us."
The youngest daughter, Maria, recalled that her father was very kind and never berated the children. Instead he was able to discipline them with simply "a look." Sholokhov and the children would occasionally go hunting or fishing and he would take his family with him on foreign trips.
Both daughters Svetlana and Maria became philologists, his son Alexander a biologist, and son Mikhail a philosopher.
Leo Tolstoy (1828-1910)
This giant of Russian literature and his wife Sofia had 13 children, five of whom died in childhood. Tolstoy was very attentive to his family, but as his daughter Tatyana recalled, "he never showed tenderness to the very small children." Tolstoy was more interested in them when they had grown up a little, when he would play with them and tell them stories.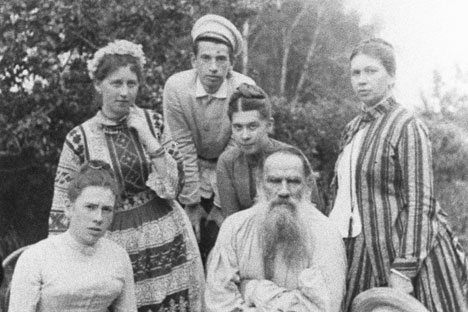 Tolstoy and his wife Sofia had 13 kids. Source: RIA Novosti
His love for his family did not deter the count and prominent writer from giving away his property to the poor, which caused some tension within the family. The youngest daughter Alexandra became closest of all to Tolstoy, and she became the literary executor of his estate.
Today there are more than 400 descendants of Tolstoy, the most famous of which is the writer Tatyana Tolstaya and her son Artemy Lebedev, a designer and popular blogger. Vladimir Tolstoy is the director of the 'Yasnaya Polyana' Museum on the Tolstoy family estate, where the descendants hold family reunions every two years.
Fyodor Dostoevsky (1821-1881)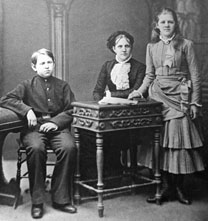 The family of Dostoevsky, pictured l-r: son Fyodor, his wife Anna and daughter Lyubov. Source: Ria Novosti / Cheprunov
Dostoyevsky's second wife Anna also had four children with him, yet still managed to keep his writing affairs in order. Dosotoevsky's immense love for them was acknowledged by his peers and recorded in family correspondence. Two of the children, the eldest daughter Sofia and the youngest son Aleksei, died in infancy, causing immense grief for both parents.
His second daughter Lyubov and his son Fyodor also tried their fortune in literature but without success. In 1913 Lyubov left Russia and wrote her memoirs about her father, although these were met with skepticism, since she was only 11 when her father died. His son Fyodor became a leading expert in horse breeding.
Alexander Pushkin (1799-1837)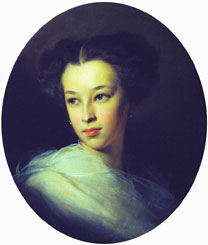 Pushkin's daughter Natalia was a wife of Prince Nikolai-Wilhelm of Nassau. Source: wikipedia
Four children were born to the jewel in the crown of Russian literature, the poet Alexander Pushkin, and his wife Natalya: daughters Maria and Natalya and sons Alexander and Grigory. Pushkin became distraught when he first saw his daughter Maria. Considering himself unattractive and finding her to resemble him, he was deeply anxious for the little girl. But he was worrying unduly.
Maria grew into a pretty young girl and a future lady-in-waiting to the Empress, and some say that Tolstoy even gave her likeness to Anna Karenina. His eldest son Alexander emerged as a hero of the Russian-Turkish war and attained the rank of general, while the youngest son Grigory became a magistrate.
Pushkin's youngest daughter, the beautiful Natalya, was born just eight months before her father's fateful duel. She became the morganatic spouse of the Prussian Prince Nikolai-Wilhelm Nassausky.
Maria and Grigory did not have children, while Alexander fathered 13, and Natalya six. Today more than 200 descendants of Pushkin live around the world.
All rights reserved by Rossiyskaya Gazeta.