Getting back to basics: Russian classics no longer lost in translation
'The Enchanted Wanderer" by Nikolai Leskov, released by Vintage Classics in April 2013, reveals a neglected writer's masterful evocations of restless passion.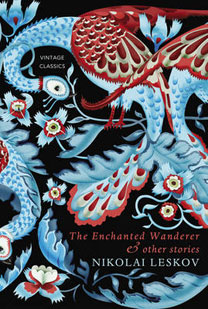 Nikolai Leskov – The Enchanted Wanderer (Vintage Classics April 2013)
Nikolai Leskov is one of those great names in Russian literature that has somehow been lost in translation. He was Chekhov's favorite author and Maxim Gorky described him as the equal of Gogol, Turgenev and Tolstoy. But most foreigners who know his name at all usually hear of him because Shostakovich based an opera on one of Leskov's short stories, "Lady Macbeth of Mtsensk."
His idiomatic language has scared some of the best translators. Until now.
A new collection of short stories and novellas, translated by award-winning husband-and-wife team, Richard Pevear and Larissa Volokhonsky, is set to rectify Leskov's "neglected classic" status. The volume opens with "Lady Macbeth" (1864), one of Leskov's earlier works, a tale of provincial lust and murder. From the bored merchant's wife, romping with a servant by the samovar under moonlit apple blossom, to a chilling denouement near the "dark, gape-jawed waves" of the leaden Volga, the story showcases Leskov's masterful evocation of place and restless passion.
Folk tales reverberate through these wandering pages, in the locked-up tower and high walls of the merchant's house; the "lily-white hands" of the wife and her lover "like a bright falcon" are deliberate echoes that contrast beautifully with the more modern details of bureaucracy and commerce, "warrants and certificates," or the "dense black shadow of the half-ruined old salt depots."
The title story, "The Enchanted Wanderer," is a picaresque novella about serf-born Ivan Flyagin, connoisseur of horses, who recounts his many near-death experiences. He works as coachman, soldier, actor, or nanny ("Russians can manage anything," said the man who gives him this job); he meets alcoholic aristocrats with supernatural powers or yurt-dwelling, Tatar horse-traders, feckless princes and burning-eyed Gypsy girls.
The settings include gothic stretches of forest "swampy, unlovely, wild" or haunting descriptions of the glittering salt marshes near the Caspian Sea with their occasional bushes of "meadowsweet, wild peach or broom," where "mist falls as dew at sunrise" and the storyteller weeps with loneliness.
Boredom and violence are recurrent themes; periods of frustration and wanderlust alternate with whippings, flaying, burial alive and crippling barbaric practices involving horsehair being sewn under the skin. The brutality and sudden changes of fortune prefigure the recent work of Ludmilla Petrushevskaya whose strange, satirical stories also combine the structure and mystique of a fable with the texture of contemporary life.
The seventeen stories in this volume are presented in chronological order, ending with "A Robbery," another colorful slice of provincial life, written in 1887 and replete with fighting geese, matchmakers, horse-drawn sleighs and Jamaican rum. Several stories take place in Leskov's native region, around the provincial town of Orel in southwest Russia. "Lefty" tells the story of a cross-eyed, left-handed gunsmith from Tula and other tales rampage through Moscow, St. Petersburg and even Vienna.
Translators Pevear and Volokhonsky are already famous for producing readable versions of "War and Peace," "The Brothers Karamazov," "The Master and Margarita" and numerous other iconic works.
Born in 1831 in a Russian village, Leskov had little formal education, but was a great traveler and a prolific journalist. His work has gone in and out of favor, but his commitment to portraying real life was crucially influential on writers like Chekhov and Isaac Babel. Pevear's lucid introduction charts the author's many re-discoveries by 19th-century artists, Soviet critics or modernist philosophers, and quotes a late interview with Leskov: "I love literature as a means … to express what I hold to be true and good."
All rights reserved by Rossiyskaya Gazeta.