Elegiac and tender, fierce and elegant, this French writer with Russian origins has built a bridge between cultures and centuries.
Andrei Makine's new novel, "Brief Loves that Last Forever" transports readers with another soaring saga that explores the strength of love. Lyrical portraits of the narrator from childhood to maturity – humble and essentially personal moments amidst the whirlwinds of history – have again attracted international acclaim.
With his sensational debut novel, "Dreams of My Russian Summers," Makine made a dazzling entrance on the international literary stage in the mid-1990s.
"The Russian side of her life interested me less," explained the narrator of this first novel as he explored his grandmother's mysterious past.
"I was like the investigator, who in examining a meteorite, is primarily attracted by the little gleaming crystals embedded in its basalt surface. And just as one dreams of a distant journey whose goal is yet unknown, so I dreamed of Charlotte's balcony, of her Atlantis, where I believed I had left a part of myself the previous summer," he said.
With this earliest masterpiece, Makine won the Prix Goncourt, the Prix Médicis and the Prix Goncourt des Lycéens. Yet the author at first could not get his work published and had to pretend that he wrote in Russian and translated his work into French.
Later, it became clear that the émigré, who moved to Paris at the age of 30, just wrote that well in French.
The English translation of this great novel became a New York Times Notable Book and the Los Angeles Times Best Book of the year. It also won the Boston Book Review Fiction Prize.
Makine's talents as an observer are so poignant and his writing so elegant that he transcends national boundaries. But perhaps even he may have been unprepared for the international acclaim accorded his slim novel, "A Life's Music," (published in English in 2002) a work that lives within readers for years after reading it.
It is the story of an erstwhile concert pianist whose parents' were arrested on the night before his first concert.
While it is one man's saga of survival in purges and war, it is also the chronicle of "homo sovieticus" and a discussion of how this "species" stared down the abyss. (Makine won the Prix RTL-lire for "A Life's Music" and the Prince Pierre Literary Prize for his achievements.)
"The Woman Who Waited" (Arcade Publishing 2006) tells the story of a woman named Vera (Faith) whose fiancé appears to have died while fighting in World War II. Thirty years later, she is still waiting for his return. That the narrator falls in love with her says something about Makine's preoccupations with loneliness, solitude, love and fate.
Still, readers know little about Makine the writer, except that he loves coffee, lives ascetically and doesn't open up willingly. He systematically avoids talking about the autobiographical references in his work.
Yes, he learned French as a child from his grandmother who helped to raise him. Born in 1957, he was raised in Siberia. There is little doubt that there are deep wounds from the absence of his parents, who may have been deported. He spent some time in an orphanage – one can only imagine what Soviet orphanages were like during the 1960s.
Yet his academic pursuits were ambitious. After studying the arts in Moscow, where he defended a thesis on French Literature, he arrived in Paris in 1987 on a teachers exchange. He sought political asylum, and wrote a thesis on Ivan Bounine.
Years of extreme poverty followed until the publication of "A Hero's Daughter," and then, after numerous refusals, the publication of "Dreams of My Russian Summers."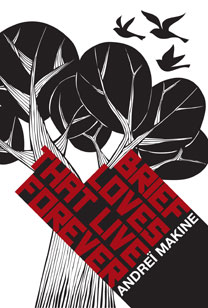 'Brief Loves That Live Forever' by Andrei Makine. Source: amazon.com
Like many of his heroes, Andreï Makine stands on a bridge between centuries, between two very different Russias, and between cultures, offering on one hand the stony accent and stature of a Siberian lumberjack, and on the other hand one of the most refined writing styles in French literature.
Thanks to his pseudonym, Gabriel Osmonde, Makine managed to publish several novels without the dual pressures of being Makine. While continuing his spiritual and literary quests, Osmonde's writing is buoyed by an optimism that is not typical of books by Makine.
In many of his earlier books, Makine evoked Soviet Russia: the radiant future the child dreams of, and which will not come; the disillusion of the adolescent; murdered lives; those who fight "the servility with which every man in every time renounces intelligence to join the herd."
Yet time and again, he gives an intimate voice to universal truths, stating emphatically that men and women matter even in the throes and upheaval of history. That fragile love, and the lyrical prose of a man who has been compared both to Proust and Chekhov, is what sustains his readers.
All rights reserved by Rossiyskaya Gazeta.