Beyond Akhmatova and Pasternak: Discovering Soviet poets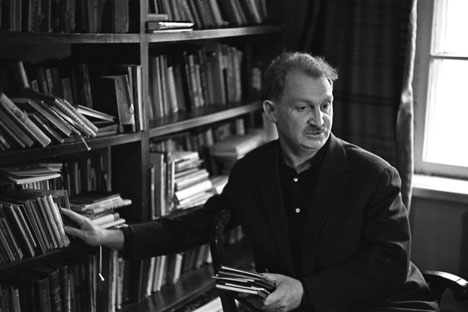 Boris Slutsky was critised in literary gropus after his speech against Boris Pasternak. Source: Yuryi Abramochkin / RIA Novosti
Translators celebrate "The Soviet Union's Other Poets" as part of London's Russian Poetry Week.
Anna Akhmatova is already known abroad, as are Osip Mandelstam, Boris Pasternak and Marina Tsvetaeva. Robert Chandler and his fellow translators are concerned that the intense focus on these four, with their dramatic life histories, has overshadowed other talented writers.
A new Penguin anthology of "Russian Poetry from Pushkin to Brodsky," due out by 2015, is set to bring these lesser known poets to light. Chandler, famous for bringing Soviet greats like Vasily Grossman and Andrey Platonov to English-reading audiences, has already edited two generous compilations of Russian short stories.
Now, together with Russian-American poets Boris Dralyuk and Irina Mashinski, he's overseeing an even more ambitious project, bringing together legions of translators to create an anthology, which challenges the whole idea of Russian poetry in the West.
Actual lives don't fit a pattern
To celebrate this poetic collaboration, London's Pushkin House hosted a "Russian Poetry week." Stephen Capus, who is translating poems by Tsvetaeva, Boris Slutsky and others for the new anthology, told a packed audience of poetry-lovers last week: "We still understand Soviet poetry in terms of an abstract, binary opposition we've inherited from the Cold War. There were the 'good' poets who lived in opposition to the Soviet Union and 'the others' who managed to find places for themselves."
This divide is over-simple, argues Capus, and leads to great poets being overlooked: "The reality is that actual lives don't fit that pattern. Slutsky's biography was complicated. Yes, he supported the denunciation of Pasternak; yet he wrote critical, denunciatory poems about Stalin."
Slutsky was one of a generation of poets who fought in World War II and his poems reflect this as well as his experience of anti-Semitism and war's aftermath ("from the rubble we built prisons of our own"). His poem "German Losses" expresses a poignant ambivalence. It describes a prisoner, cheerfully playing tunes for Russian soldiers and the poet's grief for "that man alone/ who played those German waltzes far from home."
The structure of thought
This excellent translation by Stephen Capus shares the regular rhyme scheme and rhythm of the original. These techniques, Boris Dralyuk, who lectures in Russian literature at UCLA, explained, were not "superficial decoration" for Slutsky: "they are bound up with the very structure of his thought."
Discussion of this and similar issues is crucial for translators of poetry. An unexpectedly large group of translators gathered in Oxford in mid-June to talk about literary translation.
Arseny Tarkovsky was a poet and father of famous director Andrey Tarkovsky. Source: wikipedia
Washington-based poet, Katherine Young, who attended the event, is contributing translations of Vladimir Kornilov to the forthcoming anthology. "Forty Years Later" combines pathos and satire in its description of Andrei Platonov sweeping the yard of the literary institute: "Thus the writing of that time/ grew strangely inept,/while at the Lit Institute the yard/ was nicely swept." Young commented on the odd metrical form she worked with: "the longer lines are four beats, the shorter ones only two."
Arseny Tarkovsky was a poet, translator and father of film director Andrey Tarkovsky. His poems are recited in his son's films "The Mirror" and "Stalker" and so have reached a wider audience. Chandler's moving translation of Tarkovsky's poem "How it Was"conveys the down to earth side of the poet, with the almost child-like rhythms of his evocation of the year 1919, an era of starvation ("Bread we baked from angry nettles") and his mother's slow death: "When she slept I kept on checking/ Was she breathing? Was she not?" Akhmatova called Tarkovsky's verses "a precious gift to the contemporary reader."
Poets emerging from the footnotes
Chandler points out that Tarkovsky at least had his son to champion him, but Maria Petrovykh (1908 —1979) has become a footnote in the biography of Mandelstam, who dedicated a famous love poem to her. Petrovykh spent much of her life editing and translating other people's work and published only one collection of her own poetry during her lifetime.
"A Distant Tree" appeared in 1968 when the poet was already 60 years old. Petrovykh studied in Moscow, alongside Tarkovsky, who described Petrovykh as the best poet of the group. She herself humbly deferred to the more flamboyant Soviet poets, calling them the "four corners of the world."
Chandler presented haunting versions of Petrovykh's poetry: "But if not you, who else/ is going to love me? Face/ to face, and fate to fate," she wrote, in one of her breathtakingly direct poems: "Love me/ simply, simply, as day/ loves night and night loves day."
Maria Petrovykh (1908 —1979) was editor and translator and published only one collection of her own poetry. Source: liveinternet
Her intensity is "both emotional and intellectual," said Chandler, reminding him of the English metaphysical poets. Dralyuk's translation of her poem about language ("words lie empty without breathing") reinforces this aspect of Petrovykh's poetry.
This year's Compass Prize challenges translators to test their skills on a poem by Petrovykh. The judges feel she deserves more "universal recognition" and that "it is high time for Petrovykh's own verse to benefit from the attention of translators as gifted and inspired as she herself was."
New translations are opening up the landscape of Soviet poetry, aesthetically and politically. Journalist Masha Karp explained the need "to understand those moral choices that everyone under the Soviet Union had to make … how much do you give in? How much do you allow the authorities to take you over and how much do you resist?"
Dralyuk agreed that there are "complications that arise when one tries to create a context for Soviet poetry." A new perspective on the turmoil of the twentieth century gives us "the opportunity to integrate Soviet poetry into the history of Russian poetry. The distance we have now allows us to fill the gaps and to see what we have."
All rights reserved by Rossiyskaya Gazeta.