John Freedman explains why Ostrovsky is the Shakespeare of Russia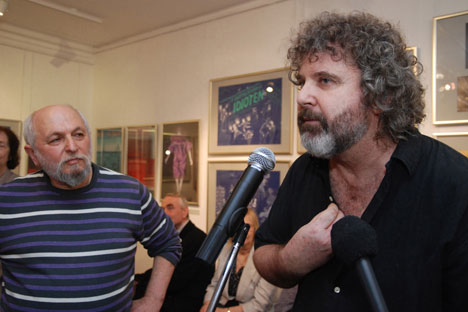 John Freedman:'Ostrovsky created templates for all the important dramatic genres - comedy, tragedy, fairy tale and drama.' Source: PhotoXpress
Moscow Times theater critic, author and playwright John Freedman helps us what the fuss is all about when it comes to Alexander Ostrovsky. He also offers ideas of how the playwright could be understood, and enjoyed, by western audiences one day.
Russia Beyond the Headlines: What is your opinion of Ostrovsky and what's his place in Russian culture?
John Freedman (J.F.): Ostrovsky is the Shakespeare of Russia. Some very good writers wrote very good plays before him – Alexander Pushkin, Nikolai Gogol, Alexander Griboyedov, to name just three. But it was Ostrovsky who made playwriting a profession in Russia (he wrote over 50 plays if you count those he co-wrote with others) and who made drama a genre that was capable of expressing all sides and all nuances of the Russian experience and the Russian character.
Like no other playwright – including Chekhov – Ostrovsky put Russian mores, Russian habits, Russian sins, and the Russian generosity of spirit under a powerful microscope. Ostrovsky created templates for all the important dramatic genres – comedy, tragedy, fairy tale and drama.
Moreover, like few writers in any language in the 19th century, he was extremely astute in his understanding of women. His women are strong, smart and rebellious. There is never a whiff of condescension towards women in his work – his female heroines, villains and even the hangers-on in between are always deeply nuanced, full-blooded individuals.
RBTH: Why haven't the plays of this great Russian playwright found their way abroad – when they are extremely popular here and the problems they deal with are universal?
J.F.: Ostrovsky and his characters are profoundly Russian. And Russians, as history has shown, are profoundly unique. A Russian merchant and an American businessman may both be greedy and moved by the lust for power. But their manners of greed and power-hunger will be expressed in vastly different ways and in different circumstances. Lovelorn young people in Russia or France are vastly divergent in their mannerisms, their beliefs and their aspirations. Their similarities exist only on the surface and Ostrovsky, in all of his characters, digs down past the surface deeply into the core.
Another reason is Ostrovsky's language, which is extraordinarily beautiful, expressive and funny. He had a masterful command of the myriad paradoxes imbedded in Russian syntactical and lexical structures. One can easily translate what his dialogue "means," but capturing the flavor of the way his characters express themselves is so difficult as to be nearly impossible.
RBTH: Have you seen any inspiring or striking productions?
J.F.: I cannot count the number of inspiring productions I have seen of Ostrovsky in Russia, but a few come to mind immediately: Genrietta Yanovskaya's "The Storm" at the Young Spectator Theater; Lev Erenburg's "The Storm" at the Magnitogorsk Drama Theater; Pyotr Fomenko's "Guilty Without Guilt" at the Vakhtangov Theater; Mark Zakharov's "The Diary of a Scoundrel" at the Lenkom Theater; Konstantin Raikin's "A Profitable Post" at the Satirikon; Viktor Shamirov's "Life is no Bed of Roses" at the Chelovek Theater-Studio in Moscow.
I once saw an interpretation of "The Diary of a Scoundrel" in Boston that did its best to use samovars and hoop skirts to approximate something a la Russe. I came away feeling admiration for the brave souls who tried to do that, but also buffeted by a sense of hopelessness, for, in fact, I had just experienced three hours not in a theater, but in a misguided ethnic museum.
RBTH: Can this situation ever change? Do you see any future for Ostrovsky abroad?
J.F.: Frankly, I have tried to "see," and even "make," a future for Ostrovsky in the United States. I have often encouraged American directors to take on one of those plays that just might cross boundaries better than others. People know "The Storm" because of Janacek's great opera "Katya Kabanova," but the play itself, for all its greatness, will probably remain foreign to American audiences.
I have long believed that an inventive version of "The Diary of a Scoundrel" or "A Profitable Post," set on Wall Street in the present day, could be a huge success. So far, to my frustration, no one has listened to me. But I keep talking.
All rights reserved by Rossiyskaya Gazeta.