Literary 'Hunger Games': Youth choose books that survive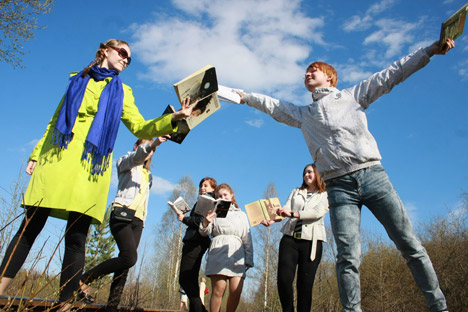 Any reader from the age of 10 to 16 can become a member of the Kniguru jury. Source: ITAR-TASS
The all-Russian Kniguru contest offers a chance for teens interested in literature to have a say in works that gets published.
Publishers the world over agonize over the same question when it comes to children and young adults: What mix of entertainment, intrigue and magic makes a book popular? What tome will be the next "Hunger Games"?
The Kniguru (a derivative of "kniga," which is Russian for book) All-Russian literary competition is solving the publisher's riddle in a unique way. The jury for the competition is comprised of older children and teens (they even came up with the name) who choose the winners annually by online voting.
Kniguru celebrates its fourth anniversary this year. In September, a short list was announced that included 15 books. The highest scores and prize money of one million rubles (about $33,450) will be shared among six writers in two categories, fiction and nonfiction. Books can be nominated by the authors themselves, as well as publishers, the media, libraries, and writers' unions. The long and the short lists are put together by a council that includes prominent Russian experts on literature for teens.
"We can guess how the kids will vote, but we include some books just because we would like them to be read. Such is the challenge of a teacher," Ksenia Moldavskaya told RBTH. Moldavskaya is contest coordinator and member of the Kniguru expert council; she is also a literary critic, journalist and teacher.
Any reader from the age of 10 to 16 can become a member of the jury. "In order be part of the Kniguru jury, kids have to do more than just register on the site, they need to read and comment on at least five books. Only those readers who do that have enough experience to decide the fate of the books," Moldavskaya added.
"It was very interesting to read the reviews that kids write, although at first it was not easy to come out of the shadows and start a direct conversation," acknowledged Irina Lukyanova, whose novel "Steklyanny Sharik" (The Glass Ball) was awarded third place in fiction in 2012.
"Kniguru gives authors the unique opportunity to speak with their readers. Kids are all different, some are well-read and others are not. There are those who think a certain metaphor is a mistake in the book, and there are others who reproach the author for characters who speak in slang. This conversation helped me understand my readers," said Lukyanova.
Winning the competition helps writers clinch coveted publishing contracts. One of the most remarkable discoveries of Kniguru has been Edward Verkin's "Oblachny Polk" (The Cloud Regiment), which is set during World War II. The author captured the intensity of the time so vividly that it became real for students, they said in their comments.
"'The Cloud Regiment' is a really powerful book," Leonid, a 13-year-old visitor to the Kniguru site, told RBTH. "I realized that war is not just a history lesson and statistics. The people who fought in the war are, first of all, people I could relate to. Not all Soviet soldiers were brave heroes, and not all enemies were villains. Our people and our enemies are all very similar to us…."
"The Cloud Regiment resonates with children and adults," said Marina Kadetova, managing editor of Compass Guide publishers. "Sales have been good. Also, many libraries order the Kniguru finalists. This year, we will bring the book to the Frankfurt Book Fair."
The most active members of the teen jury are rewarded for their efforts, and the best reviews on Kniguru are awarded prizes, including an iPhone. Every year there are more readers who want to join the Kniguru jury: In 2011, there were 1,000 participants, and in 2012 the number grew to 1500.
Books from the short list are available for a year on the award site. The ability to access these books online addresses another pressing problem – engaging readers who live in remote corners of the country and have little or no access to new books.
"In Moscow, where readers can buy books from small children's publishing houses, literature is on the rise. But I often hear people who do not live in Moscow complaining that these books are not available in other cities," said Dina Sabitova, a writer and member of the Kniguru council of experts. "Small publishers release, at most, seven thousand copies of a book. For Russia, this is a drop in the bucket, and these books cannot physically reach libraries in small towns and villages. Kniguru makes all of the most interesting books available on our website so that kids in the most remote regions have the opportunity to read them."
All rights reserved by Rossiyskaya Gazeta.