Six leading Russian authors in a movie hosted by Stephen Fry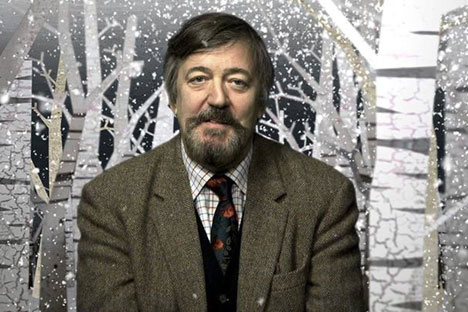 Stephen Fry speaks about Russian literature in his movie. Source: Press photo
Who is the new Tolstoy, Dostoevsky or Gogol waiting to be discovered by the English-speaking world? RUSSIA'S OPEN BOOK, a new movie about contemporary Russian literature hosted by Stephen Fry, may yield an answer.
The sheer size of Russia, the violence of its history, and the heroism and genius of its people all have contributed to a world of literature like no other. RUSSIA'S OPEN BOOK: Writing in The Age of Putin focuses on six writers in Russia whose vibrant, idiosyncratic work continues to gain traction with a global audience: Dmitry Bykov, Zakhar Prilepin, Mariam Petrosyan, Anna Starobinets, Vladimir Sorokin and Ludmila Ulitskaya, all renowned authors both in Russia and abroad, laureates of literary prizes and awards.
Each author is interviewed extensively in the film, with contributions from their literary critics, publishers, and peers. Excerpts from the authors' recent works are brought to life by vivid animated sequences created exclusively for the film and voiced-over with dramatic readings in English by Stephen Fry.
"You may think Russian literature is no more than a catalog of suffering and misery and woe, but actually it's so much more than that. There's so much joy, there's so much hope, there's so much about the human spirit in it," says Fry in the film. "These six Russian writers and their contemporaries must grapple with the past, live in the present, and create fictional worlds that will continue to exist in the future."
Co-directed by Paul Mitchell (2012 Peabody Award for the BBC/NatGeo TV series "Putin, Russia and the West") and Sarah Wallis (Royal Television Society Award for "Homecoming", a documentary about Alexander Solzhenitsyn), RUSSIA'S OPEN BOOK will premiere nationally on PBS member stations beginning in New York on Dec. 28. The Intelligent Channel, YouTube's online platform for enlightening nonfiction programming, will preview the PBS premiere with a digital showcase beginning on Dec. 13.
Official trailer. Source: Youtube
All rights reserved by Rossiyskaya Gazeta.