A Russian author creates portraits of the children of communism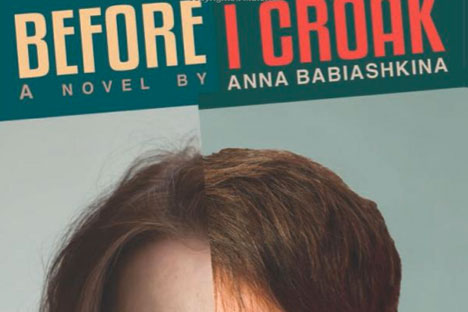 Anna Babyashkina of Yaroslavl is a journalist who garnered attention after winning the Debut Prize for her novel 'Before I Croak,' in which the main character fights her Soviet legacy from a nursing home
Imagine the bloggers and bitchers of the early Internet-generation, born in the late 1970s, thrown together in a retirement home. This is the basis for Anna Babyashkina's debut prize-winning novel "Before I Croak," deftly translated by Muireann Maguire.
"I think this is very much a portrait of a generation," Maguire said, describing the narrator as a modern-day version of Mikhail Lermontov's Pechorin in "A Hero of Our Time." "Before I Croak" (GLAS New Writing, 2013) is set in a future that is almost identical to the present. The women in the old people's home still "wear G-strings, epilate our bikini lines and sauté ourselves in tanning salons." The interlocking series of stories is entertaining and contemporary. The denizens of "Before I Croak" are the children of late communism.
Born in 1979, Babyashkina grew up in a village in the Yaroslavl Region of central Russia. Hers was not a wealthy family; her mother worked in the post office and her father was a driver, but she graduated with honors from the journalism department of Moscow State University and was determined to fulfill her childhood dream of being a writer. She worked as editor on the Express newspaper and later on high profile magazines, as a screenwriter, cultural and psychological columnist and ghostwriter for Russian celebrities.
Babyashkina believes that her varied professional experiences have influenced her writing. She said that journalism is an ideal way to meet a wide variety of people, and learned more about human behavior while writing psychological columns. Babyashkina has been working since last June as chief editor of a new online literary project called ReadRate.com.
Babyashkina is a novelist with a fresh style and a strong voice. She sees a legacy of fear in Russia: "…our great-grandfathers, grandfathers and parents fell into the great meat-grinders of their time. They sent us a message of terror… But that was our challenge," she writes.
She urges her generation to stop waiting for "some kind of midwife to draw the new day out of us" and instead to seize life and live it now.
All rights reserved by Rossiyskaya Gazeta.