Expats recalled with biting humor in new book, 'Lenin Lives Next Door'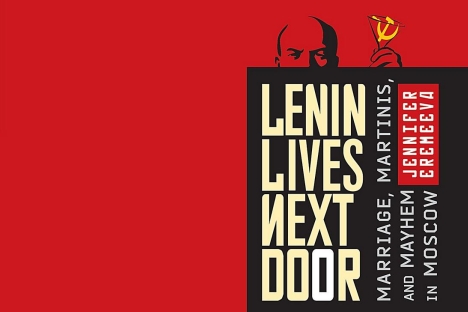 Jennifer Eremeeva, a contemporary Jane Austen, finds 'Marriage, martinis and mayhem in Moscow.'
'Lenin Lives Next Door: Marriage, Martinis, and Mayhem in Moscow' by Jennifer Eremeeva, Small Batch Books, 2014
If Jane Austen had been an American living in post-Soviet Moscow, she might have made similar observations to those in Jennifer Eremeeva's "Lenin Lives Next Door." This entertainingly bitchy comedy of manners describes itself as "creative nonfiction"; it is clever, funny and rude about everyone.
Writer and photographer Eremeeva fell in love with Russia while she was still at school, imagining adventures with troikas and headscarves. Many years later, she has married a handsome Russian husband (dubbed HRH) and produced a horse-mad daughter. Two decades of varied work in the fast-changing Russian capital are distilled into a potent cocktail of fashionable parties, family life and lingering Soviet traditions.
The book's title refers to a building opposite Eremeeva's Moscow home in which Lenin's corpse, removed from its mausoleum, is given a regular preservative bath in embalming fluids. It serves as a "tangible link to Russian history" and also as a symbol of the ubiquitous weirdness of Russia.
Each chapter has a theme, like holidays or health, creating an interlinked collection of stories. Celebrating the comedy of life in the "world's largest country" is surprisingly unusual: "there aren't so many funny books about Russia out there," Eremeeva's narrator (also called Jennifer) points out. She acts as an amusing cultural go-between, comparing Russian and American customs. HRH's early impression of America, from watching commercials, was that "it consists entirely of toothpaste, cat food, and feminine hygiene products."
Jane Austen's satirical laughter is clearly an inspiration. Eremeeva adapts the "truth universally acknowledged" and recasts "Pride and Prejudice." Family friend Ilya Potapov has "been Bingley to HRH's Darcy since their military school days." Which means Jennifer is Elizabeth Bennet, the witty, independent heroine (who confesses in the original Austen that there are: "few people whom I really love, and still fewer of whom I think well.")
The favored few include a vivid cast of friends: Tancy, the chain-smoking "corporate lioness"; Jesus, the gay, Venezuelan interior designer; or Joe from Ohio, who deals in real estate and lives with a stunning Russian girlfriend. The narrator's verdict on other foreigners is often damning: "the most boring man east of Paris, though competition is pretty stiff" or "She had good hair and bad skin, and she clearly spent a fortune on both."
Eremeeva derides expat wives who complain about their nannies or communicate with their drivers in sign language. She herself is fluent in Russian and the language threads its way into her humorous tapestry: colloquial swearwords, unpronounceable patronymics and the challenges of cross-cultural parenting. She even unpacks body language like the "enigmatic Slavic shrug" and dedicates most of one chapter to observations on Russian girls' names, having noted earlier that: "nothing good ever came of an Olga."
The style is conversational, sharing in-jokes and intimacies. Russophiles can appreciate her veiled love song to the land of sepia tsars and samovars; Russophobes will love her tales of baroque tastelessness and soul-chilling bureaucracy. Her writing showcases the sometimes inextricable, best and worst in her adopted home country.
In 2011 Eremeeva launched her foodie blog "The Moscovore" to share the culinary adventures involved in "finding, cooking, and enjoying great food in the Russian capital" so it is not surprising that food is a major theme in her book. From bad cheeseburgers at the Starlite Diner to "Kamchatkan crab and smoked salmon croquettes" at the "Tartan Ball," many of her wittiest scenes take place at mealtimes. She creates feasts of pesto and tabbouleh in the land of "cabbage soup and porridge" and laughs at the differences between her buffet parties and a typical Russian celebration involving "mayonnaise-based salads and a jungle of sticky glasses."
With her hatred of Republicans and wariness of Mormons, goatee beards or "people who use "scrapbook" as a verb," America could easily provide as many targets for Eremeeva's satire as Russia has. She is the kind of writer who will always find humor in her surroundings. Like Austen's Mr. Bennet, Eremeeva seems to ask: "For what do we live, but to make sport for our neighbors, and laugh at them in our turn?"
All rights reserved by Rossiyskaya Gazeta.