Of the many charismatic, romantic and tragic Russian poets, Mikhail Lermontov, born 200 years ago, was among the most beloved. Yet he died at the age of 26, and was surrounded by controversy even as a child and long after his untimely death.
This month, the American-Russian Cultural Cooperation Foundation (ARCCF) celebrates Lermontov's bicentennial at the Library of Congress on April 24 with an evening of culture in his honor in the Capital.
Lermontov became famous overnight: as Russia was mourning its greatest poet Aleksandr Pushkin, who had been killed in a duel, the 22-year-old cavalry officer wrote a bold and very emotional poem, "Death of a Poet." The work became an instant hit in St. Petersburg, as its denizens copied the verse by hand and passed it on. In the poem, Lermontov went on to assail society, effectively blaming Pushkin's death on the authorities and the fashionable customs of the times. The official response was furious and came swiftly: The freethinking poet was arrested and exiled to the Caucasus, where a seemingly never-ending war was in progress.
Lermontov was dispatched to Georgia and fell in love with the place. There was no actual fighting going that he took part in, but he returned from exile full of ideas and storylines, which fed most of his best-known works that he wrote over the next couple of years.
However soon the poet attracted the authorities' attention once again: this time by taking a part in a duel, banned in Russia at the time. An officer in the Russian Army, he was sent to the Caucasus again, this time to Chechnya, to quell the resistance of Islamic mountain tribes against Russian forces.
Lermontov showed reckless courage, ruthlessness and even a kind of malice on and off the battlefield – as those who had the misfortune to become the butt of his jokes could attest to. His mother died when Mikhail was just two years old. Scholars write that she was desperately unhappy in her marriage; some even believe that her depression may have somehow been the cause of her premature death. Lermontov's father also had Scottish descendants, which, according to legend, hailed directly from the medieval poet Thomas Learmonth (aka Thomas the Rhymer). He was a military man who had no fortune but was popular with women.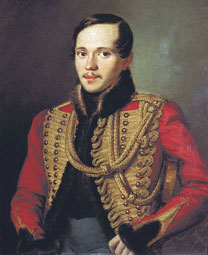 A portrait of

Mikhail Yurievich Lermontov

by Pyotr Zabolotsky, painted in 1837. Source: Wikipedia
After his wife's death, he left his son with his wealthy mother-in-law, knowing full well that he would not be able to give his boy a decent education. The grandmother doted on her only grandson, but according to historians, that love did not quite heal the wound inflicted by the trauma of his mother's death and father's abandonment.
Lermontov was a very impressionable young man: he experienced his first love at the age of 10 and wrote his first serious poems at the age of 13. He himself thought that he had grown up too soon, and his poems suggest as much, but in some respects he remained a child throughout his very brief life. As a cadet at the cavalry school, he often was the soul of the party, forever coming up with pranks and jokes, not all of which were innocent.
Even when his studies were over, Lermontov's toxic sense of fun was not. One anecdote from this era reveals how he took revenge on a young woman who had once rejected his love: Lermontov pretended that he was in love with her again, this time won her heart and then… sent an anonymous letter to her parents, where he slandered himself, which led to them denouncing her affair with him. He was very pleased with himself, and discussed it in his letters to all his friends. He did not stop there, but managed to become best man at the young woman's wedding.
And yet, no matter how dubious some of his pranks and behavior may have been, his talent for poetry was transcendent. Lermontov was gifted not only with words. He was also musical and was an excellent artist. He chose a military career out of convention. Besides, there was something attractive about the idea of being a hussar, who were always thought to be so daring and dashing, all the more so since Lermontov was always insecure about his looks. Which may have led to the final tragedy of his life.
An epizode from the series 'Hero of Our Time,' 2006
During his second exile to the Caucasus, in 1841, Lermontov was on holiday in Pyatigorsk. He dueled with a former friend, a retired officer, Nikolay Martynov. The real cause of that duel would become a source of heated debate for the next century and a half. It is known that the row was sparked by Lermontov's constant teasing of Martynov. Was there a lady involved (as one theory suggests), or was it a provocation by the tsarist secret police that wanted to destroy the freethinking poet and his espousal of personal liberty? In any case, the duel took place, and Lermontov was killed at the age of 26, and Russia lost its most promising poet.
5 works by Mikhail Lermontov you should read
1. "The Sail". Written by an 18-year old Lermontov, "The Sail" turned out to be his most-quoted and popular poem, which creates a metaphor that compares a poet's restless soul to a stranded sailboat seeking not refuge, but a tempest, "as if in tempests there were peace."
2. "Masquerade". Written in 1835, this verse play tells the story of a nobleman with a gambling habit, devoured by jealousy, who eventually murders his own wife. Lermontov dreamed of seeing the play produced, but it was too passionate to pass the censorship committee.
3. "Death of a Poet". Written in 1837, in reaction to Aleksander Pushkin's death, this poem became hugely famous among Petersburg intellectuals and circulated by hand. Labeled "freethought" by the authorities, the poem was the reason for Lermontov's exile to the Caucasus.
4. "Demon". Lermontov began working on this poem, considered a masterpiece of European romanticism, when he was only 14, but it wasn't completed until his return from his first Caucasus exile in 1839. Set in Georgian landscapes, the poem praises love as the living force of nature, which could transform even a demonic creature.
5. "A Hero of Our Time". Pechorin, the main character of "A Hero of Our Time," Lermontov's only novel, is the antihero of Russian dandyism – a handsome and cynical fatalist, he bears certain traits of the author himself. A Byronic image of reckless, rebellious Pechorin and the nonlinear plot structure are key features of this masterpiece that influenced generations of writers.
All rights reserved by Rossiyskaya Gazeta.