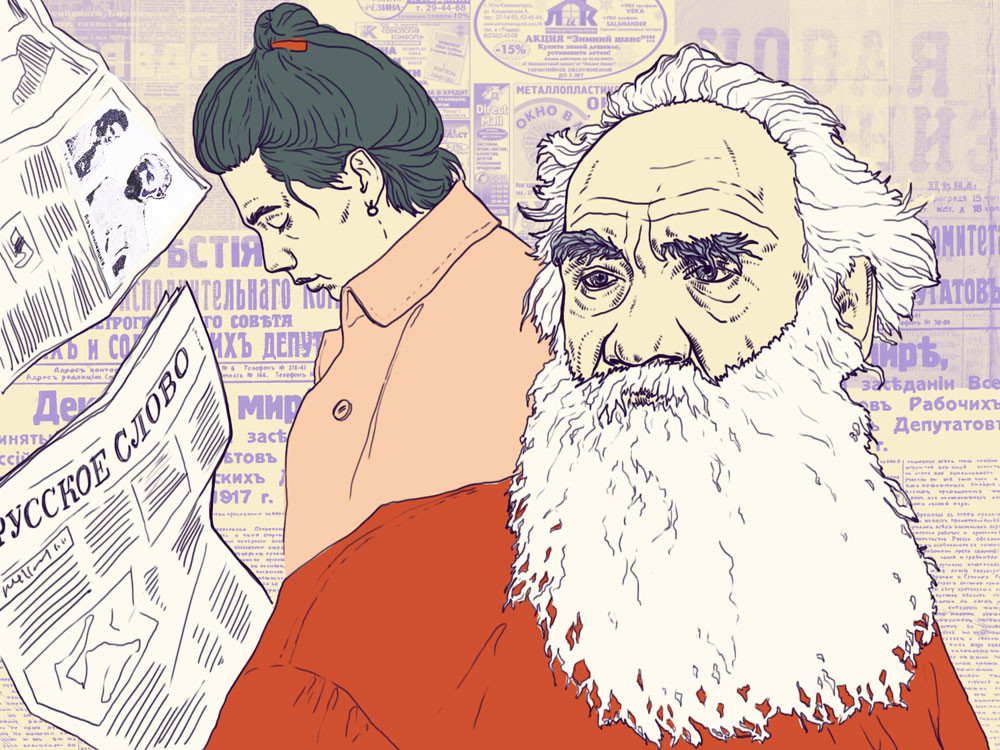 On the night of October 27, 1910 an unbelievable event took place <…> in Yasnaya Polyana, ancestral estate of the internationally well-known writer and thinker – Count Lev Nikolayevich Tolstoy. The eighty-two year old Count secretly fled from his home in an unknown direction with the escort of his personal physician Makovitsky that night.
<…>
The informational space of that time didn't strongly differ from the present. News of the scandalous events momentarily spread throughout Russia and across the world. On October 29th, urgent telegrams began to come from Tula to the Petersburg Telegraph Agency, republished in newspapers the next day. "News having surprised everyone was received that L.N. Tolstoy escorted by Dr. Makovitsky unexpectedly fled Yasnaya Polyana and left. Having left, L.N. Tolstoy left a letter, in which he announces that he's leaving Yasnaya Polyana forever".
Tolstoy's fellow traveler, Makovitsky, didn't even know about this letter, written by L.N. for his wife who slept and given to her in the morning by their youngest daughter Sasha. He himself read about it in the newspapers.
More operational than any was the Moscow newspaper Russian Word. On October 30th the newspaper published a report by its own Tula correspondent with detailed information about what happened at Yasnaya Polyana.
"Tula, 29, X (urgent). Having returned from Yasnaya Polyana, I announce the departure of Lev Nikolayevich in detail.
Lev Nikolayevich left yesterday, at 5am, when it was still dark.
Lev Nikolayevich went to the coachman's quarters and ordered the horses to be hitched.
The coachman Adrian fulfilled the order.
When the horses were ready, Lev Nikolayevich, together with Dr. Makovitsky, having taken the necessary things, lain out earlier that night, went to the Shchekino Station.
The postman Filka went in front of them, lighting the way with a torch.
At the Shchekino Station, Lev Nikolayevich got a ticket to one of the stations on the Moscow-Kursk railroad and left on the first train having passed.
When it became known at Yasnaya Polyana about the sudden departure of Lev Nikolayevich, there arose a terrible confusion. The despair of Lev Nikolayevich's wife, Sofia Andreyevna, defies description".
This announcement, which the whole world talked about the next day, was printed, not on the front page, but on the third. The front page, as it was acceptable at that time, was for advertisements of all possible products.
"The stomach's best friend is San Rafael wine".
"Medium sturgeon. Twenty kopeks a pound".
Having received the nightly telegram from Tula, Russian Word immediately sent their correspondent to the Tolstoy's Hamovniki House (today – the house-museum of L.N. Tolstoy, between the "Park of Culture" and "Fruzensky" subway stations). The newspaper hoped that, perhaps, the Count fled from Yasnaya Polyana to the Moscow estate. But, as the newspaper writes "the old lordly Tolstoy house was quiet and calm. Nothing hinted that Lev Nikolayevich could come to the old hearth and home. The gates were locked. Everyone home are sleeping".
On the pursuit along Tolstoy's proposed path of flight was sent the young journalist Konstantin Orlov, the theatrical reviewer, son of Tolstoy's follower, teacher and populist Vladimir Fyodorovich Orlov, represented in the stories "Dream" and "There Aren't Any Guilty in the World". He overtook the refugee already at Kozelsk and secretly escorted him to Astapovo, from where he announced to Sophia Andreyevna and Tolstoy's children by telegram that their husband and father is seriously ill and is at the central railroad station in the home of its station master, I.I. Ozolin.
If it wasn't for Orlov's initiative, the relatives would have found out the whereabouts of the deathly ill L.N. no earlier than all the newspapers announced it. Is it really necessary to say how hurtful this would have been for the family? Therefore, as opposed to Makovitsky, who regarded the activity of Russian Word as "espionage", Tolstoy's eldest daughter, Tatiana Lvovna Suhotina, according to her reminiscences, was grateful "to death" to the journalist Orlov.
"Father is dying somewhere nearby, and I don't know where he is. And I can't take care of him. Perhaps, I will never see him again. Will they allow me even just to glance at him on his death-bed? A sleepless night. A real torture," Tatiana Lvovna subsequently reminisced her and her family's mental state after Tolstoy's "flight" (her expression). "But a man, unknown to us, who understood and took pity on the Tolstoy family, was found. He sent us a telegram: 'Lev Nikolayevich is at Astapovo at the station master's. His temperature is 104o.'"
In general, one has to admit, that in relations toward his family and, first of all, toward Sofia Andreyevna, newspapers behaved more controlled and delicately, than in their relations toward the Yasnaya Polyana refugee, each step of whose was ruthlessly traced, although all the journalists knew that in his farewell note Tolstoy asked: not to search for him! "Please… don't come after me, if you find out where I am", he wrote his wife.
"In Belev, Lev Nikolayevich left the buffet and ate fried eggs", the journalists savored the ferial act of the vegetarian Tolstoy. They interrogated his drivers and Filka, lackeys and peasants of Yasnaya Polyana, cashiers and waiters at the stations, the driver who took L.N. from Kozelsk to the Optina Monastery, the hotel monks and anyone who could tell something about the path of the eighty-two year old man, the only desire of whose was to run away, hide, become invisible for the world.
"Don't look for him!" cynically exclaimed the Odessa News, addressing the family. "He's not yours – he's everyone's!"
"It's understood that his new place of residence will soon be discovered", the Petersburg Gazette announced in cold blood.
L.N. didn't like newspapers (although he followed them) and didn't hide it. In other matters – S.A., the writer's wife understood well that her husband's reputation and her own reputation, like it or not, will develop from the newspaper publications. Therefore, she quickly addressed the journalists and gave an interview, explaining this or that strange behavior of Tolstoy's or his statements and not forgetting during this (in this was her weakness) designate her role next to the great man.
Therefore, the journalist's relations toward S.A. were, more often, warm. The general tone was set in the Russian Word's feuilleton "Sofia Andreyevna" by Vlasa Doroshevich, in the issue of October 31st. "The old lion went to die in solitude," wrote Doroshevich. "The eagle flew away from us so high, how then can we track his flight?!"
(They followed him, and how did they follow him!)
He compared S.A. with Yasodara, Budda's young wife. This was undoubtedly a compliment, because Yasodara was in no way guilty of her husband's departure. In the meantime, malicious tongues didn't compare Tolstoy's wife with Yasodara, but to Ksantipa, the wife of the Greek philosopher Socrates, who it seemed exhausted her husband with peevishness and misunderstanding of his outlook.
Doroshevich in fairness pointed out that without his wife, Tolstoy wouldn't have lived such a long life and wouldn't have written his later works. (Although what does Yasodara have to do with that?)
Feuilleton's conclusion was this. Tolstoy – this is a "superperson", and his actions cannot be judged by the usual norms. S.A. was a simple, mundane woman, who did everything she could for her husband, while he was simply a man. But in the "superhuman" reality, he wasn't worthy of her, and this was her tragedy.
"Sofia Andreyevna is alone. She doesn't have her children, her elder-child, her titan-child, whom she had to think about, care for every minute: is he warm, is hefull, and is he healthy? There wasn't anyone else to give a drop to all of her life."
S.A. read the feuilleton. She liked it. She was thankful to the newspaper Russian Word for Doroshevich's article as well as Orlov's telegram. Because of this it was possible not to pay attention to the trifles, like the unpleasant description of Tolstoy's wife outer appearance, which the same Orlov gave: "Sofia Andreyevna's wandering eyes expressed internal torture. Her head shook. She was dressed in a carelessly thrown-on cowl." It was possible to forgive night surveillance of the Moscow home, and very unbecoming an indication of the amount, which the family wasted in order to rent a private train from Tula to Astapovo – 492 rubles and 27 kopeks, and Vasily Rozanov's transparent hint that Tolstoy fled, regardless, from his family: "The prisoner has left a delicate dungeon".
Having skimmed through the newspaper's headlines, dedicated to Tolstoy's departure, we find that the word "departure" is rarely seen in them. "SUDDEN DEPARTURE...", "DISAPPEARANCE...", "FLIGHT...", "TOLSTOY QUITS HOME".
And here it isn't the desire of the newsmen to "rouse" the readers. The events in and of themselves were scandalous. The fact is that the circumstances of Tolstoy's disappearance from Yasnaya, indeed is much more like an escape than a grand departure.
Translated from the Russian by Scott D. Moss.
Courtesy of Glagoslav Publications.
All rights reserved by Rossiyskaya Gazeta.