The Read Russia Prize will be awarded in Moscow for the second time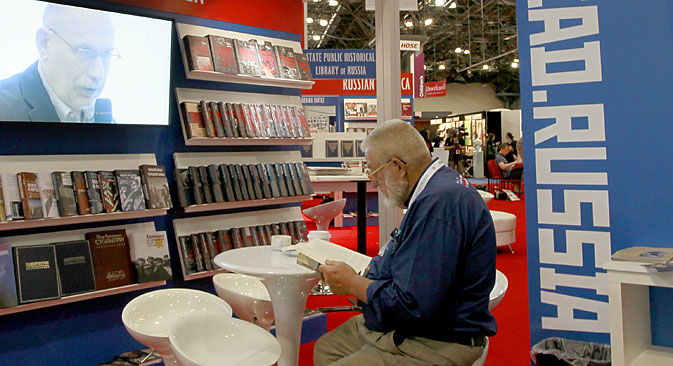 The awards ceremony will be one the highlights of the Third International Congress of Literary Translation. Source: Valery Levitin / RIA Novosti
The second official awards ceremony for the Read Russia prize will take place on September 6 in Pashkov House, Moscow. RBTH presents the short list for the 2014 nominees.
The organizational committee for the Read Russia Prize has announced its global shortlist of 17 translators and translations of Russian literature into other languages worldwide. The competition, which is open to works published between 2012 and 2014, received 112 nominations from 16 countries around the world, including Lebanon, Argentina and Morocco.
The Read Russia Prize was established in 2011 by the Institute of Translation in Moscow, a nonprofit organization dedicated to furthering the development of the theory and practice of literary translation. The competition is held every two years with support from the Federal Agency for Press and Mass Communication and the Boris N. Yeltsin Presidential Center.
The prize is awarded to a translator or group of translators for outstanding translations of prose and poetry works from Russian into a foreign language. The works must have been published by a foreign publisher during the previous two years.
The prizewinners in each category are the translator(s) and the publishing house that released the book. Winners receive 5,000 euros for the translator(s) and 3,000 euros for the publisher, in the form of a grant to cover expenses for the translation of another work of Russian literature, to be agreed upon with the Institute of Translation.
The jury is comprised of a group of ten specialists with a diverse background in Russian language and literature, from slavist professors and directors of cultural institutes to representatives of the publishing industry. The Read Russia Prize's Trustee Council includes prominent Russian public, cultural and official figures such as Naina Yeltsin and Natalya Solzhenitsyn.
The second awards ceremony will take place on September 6 in Moscow's Pashkov House. It will be one of the highlights of the Third International Congress of Literary Translators, organized by The Moscow Institute of Translation. More than 300 people involved in publishing, translating and the media will take part in the event, alongside representatives from various Russian cultural ministries.
Read Russia Prize 2014 Short List:
For 19th century classic Russian literature:
1. Vera Bischitzky for her translation of Ivan Goncharov's novel "Oblomov" (Germany);
2. Alejandro Ariel Gonzales for his translation of Fyodor Dostoevsky's novella "The Double" (Argentina);
3. Jorge Ferrer Diaz for his translation of Alexander Herzen's work "My Past and Thoughts" (Spain).
For 20th century Russian literature (works written before 1990):
1. Alexander Nitzberg for his translation of Mikhail Bulgakov's novel "Master and Margarita" (Austria);
2. Daniela Rizzi for her translation of Osip Mandelstam's prose works "The Noise of Time" (Italy);
3. Joanne Turnbull and Nikolai Formozov for their translation of Sigizmund Krzhizhanovsky's collection "Autobiography of a Corpse" (United States);
4. Henryk Chlystowski for his translation of Mikhail Slonimsky's book of short stories "Warsaw" (Poland);
5. Elizabeth and Robert Chandler for their translation of Vasily Grossman's book "An Armenian Sketchbook" (United Kingdom).
For contemporary Russian literature (works written after 1990):
1. Julie Bouvard for her translation of Eduard Kochergin's novel "Christened with Crosses" (France);
2. Ives Gauthier for his translation of Andrei Rubanov's novel "A Successful Life" (France);
3. Nicoletta Marcialis for her translation of Zakhar Prilepin's novel "Sin" (Italy);
4. Ljubinka Milincic for her translation of Georgy Vladimov's novel "The General and His Army" (Serbia);
5. Ewa Rojewska-Olejarczuk for her translation of Viktor Pelevin's novel "T" (Poland);
6. Marian Schwartz for her translation of Leonid Yuzefovich's novel "Harlequin's Costume" (United Kingdom).
For poetry:
1. Abderrahim Lataoui for his translation of "Selected Masterpieces of Russian Poetry by 19th- and 20th-Century Poets" (Morocco);
2. Liu Wenfei for his translation of lyrical works by Alexander Pushkin (China);
3. Martina Jakobson for her translation of Arseny Tarkovsky's book "A Herd of Deer" (Germany).
All rights reserved by Rossiyskaya Gazeta.