The Read Russia Prize is awarded in Moscow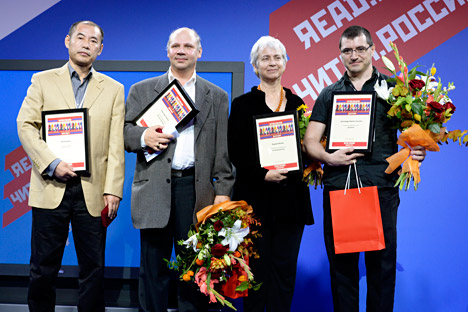 The Read Russia Prize ceremony: (L-R) Liu Wenfei, Alexander Nitzberg, Marian Schwartz, Alejandro Ariel Gonzales. Source: Mikhail Sinitsyn / RG
The winners have been announced for the best translations in four categories encompassing contemporary and classic Russian prose and poetry. This year, the winning languages were English, Spanish, German and Chinese.
The awards ceremony for the Read Russia Prize has taken place on September, 6 within the stately confines of Moscow's Pashkov House, part of the Russian State Library. This biennial event, which is supported by the Moscow Institute of Translation, is designed to honor the best translators working in any language and to facilitate the further translation of Russian literature. It encompasses four categories: Classic Russian Literature, 20th Century Russian Literature (published before 1990), Contemporary Russian Literature (published after 1990), and Poetry.
The winner of each category receives a special diploma and a medal, as well as a cash prize of 5,000 euros and a 3,000 euro grant that enables the winner's publishing house to cover the cost of translating another Russian work of their choosing.
The nominees for the first category – Classic 19th Century Russian Literature – were Vera Bischitzky for her German translation of Ivan Goncharov's "Oblomov," Alejandro Ariel Gonzales for his Spanish translation of Fyodor Dostoevsky's "The Double," and Jorge Ferrer Diaz for his Spanish translation of Alexander Herzen's "My Past and Thoughts." The winner was Alejandro Ariel Gonzales, who seemed genuinely overcome with gratitude as he accepted the award.
The next prize – 20th Century Russian Literature – had five nominees: Alexander Nitzberg for his German translation of Mikhail Bulgakov's "Master and Margarita," Daniela Rizzi for her Italian translation of Osip Mandelstam's "The Noise of Time," Joanne Turnbull and Nikolai Formozov for their English translation of Sigizmund Krzhizhanovsky's "Autobiography of a Corpse," Henryk Chlystowski for his Polish translation of Mikhail Slonimsky's "Warsaw," and Elizabeth and Robert Chandler for their English translation of Vasiliy Grossman's "An Armenian Sketchbook." The award went to Alexander Nitzberg, who commented on the mystical symmetry of receiving this award in Pashkov house, which plays such a significant role in "Master and Margarita."
The nominees for the Contemporary Russian Literature category were Julie Bouvard for her French translation of Eduard Kochergin's "Christened with Crosses," Ives Gauthier for her French translation of Andrei Rubanov's "A Successful Life," Nicoletta Marcialis for her Italian translation of Zakhar Prilepin's "Sin," Ljubinka Milincic for her Serbian translation of Georgy Vladimov's "The General and His Army," Ewa Rojewska-Olejarczuk for her Polish translation of Viktor Pelevin's "T," and Marian Schwartz for her English translation of Leonid Yuzefovich's "Harlequin's Costume." The winner was Marian Schwartz, who was emotional and grateful as she accepted her award.
Finally, there were three nominees for the Poetry category: Abderrahim Lataoui for his Moroccan translation of "Selected XIX and XX Russian poetry," Liu Wenfei for his Chinese translation of lyrical works by Alexander Pushkin, and Martina Yakobson for her German translation of Areseny Tarkovsky's "A Herd of Deer." The winner was Liu Wenfei, who gave a touching speech that went right to the heart of why the congress is important and what the Read Russia prize itself means. He commented that both enable deep cultural exchanges and facilitate humanitarian friendship. "Translation is a lonely business," he said, "Thanks for making it less so."
The winners are chosen by a panel of international judges that included leading literary figures such as Vsevolod Bagno, the director of the Institute of Russian Literature (the Pushkin House), Peter Mayer, the president of the American publishing house Overlook Press, Raphael Gusman Tirado, the vice-president of the International Association of Russian Language and Literature Professors, and many more.
The ceremony was hosted by Mikhail Shvydkoy, Special Envoy for International Cultural Cooperation to the Russian President. "The prize showcases the last two years of Russian literature in translation," said Shvydkoy in his speech. "The translators have their own vision of world events, and the exchange of opinions on these subjects is especially relevant now." One award was presented by Grigory Ivliev, Russian Deputy Minister for Culture, who remarked that literary translators "are capable of reaching creative heights inaccessible to many of us. Thanks to their work Russian culture is spread across the entire world."
The Read Russia prize served as the closing ceremony for the Third International Congress of Translators. The theme of this year's congress was "Translation as a Method of Cultural Diplomacy," and the Read Russia ceremony's opening speech emphasized a translator's opportunity to promote greater understanding between different cultures, unite people of varying ethnicities, and generally contribute to global peace.
"In these difficult geopolitical times, it is vital that we continue our conversations on the common humanity between Russia and foreign countries," said Tatyana Voskovskaya, the ceremony's presenter.
All rights reserved by Rossiyskaya Gazeta.