Political poetry in Russia: 2011 – present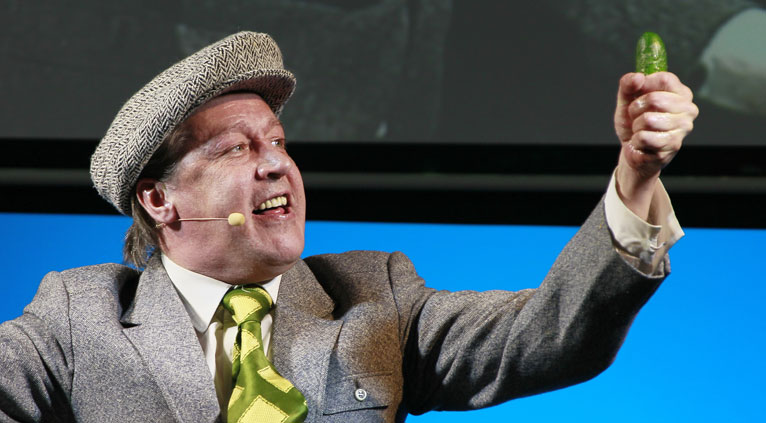 Actor Mikhail Yefremov reciting poetry during a performance of "Citizen Poet" project. Source: Valery Levitin / RIA Novosti
After the turbulence of the 1990s and early 2000s, political poems became a regular staple in the Russian media. Their popularity has grown to such an extent that there are substantial financial rewards for authors writing successful protest poetry. However, getting noticed can cause unwanted attention from both the government and its powerbase, which still encompasses the majority of ordinary Russians. Can Russian poets today claim to have the same influence as their counterparts in pre-revolutionary Russia?
The wave of protests that marked 2011 politicized what had previously been ironic poetry. The demonstrations and the government's reaction to them upstaged all other events in the country. New poems have begun taking the Internet by storm, sometimes even going viral.
Badminton and the bronze poet
During the Soviet period there was a tendency to portray central Asian characters in movies as speaking in broken, comedic Russian. Leo Kaganov plays with this idea in a cutting poem that presents an imagined appeal to the Basmannyi Court – which deals with important political cases – on behalf of a monument to the Kazak national poet, Abay Qunanbaiuli.
Kaganov was reacting to a peaceful youth demonstration that took place at the monument in the spring of 2012; in the poem his bronze Abay tries to inform the government that the demonstrators have done nothing wrong. The work became immensely popular among Russian-speaking internet users, who appreciated both the message and the parody of typical representations of central Asian figures.
Dmitry Bykov's poem "Putin and the Muzhik" from 2011 is another example of a recent Internet sensation. It sends up former President Dmitry Medvedev's suggestion of developing badminton in Russia on a mass scale. In the poem, Putin and Medvedev come to a cornfield to play badminton on combine harvesters and encounter a farmer there. Impressively, Bykov composed this quite extensive work in front of a live audience during an episode of the "Citizen Poet" project.
An accidental business
Bykov came up with the idea for the "Citizen Poet" project on New Year's Eve 2010 when he was hosting a program on channel Dozhd with the famous theater and movie actor Mikhail Yefremov. The project's name is an allusion to 19th-century poet Nikolai Nekrasov's well-known poem "The Poet and the Citizen," which discusses the artist's civic responsibility. The phrase "you don't have to be a poet, but you must be a citizen" has become a meme in contemporary Russia.
The original idea was to make poetic news once a week, to broadcast a clip in which Yefremov read Bykov's topical poems. But it only took until March before the channel's directors pulled one of the clips from being broadcast in the belief that the poem might offend President Medvedev. First the project moved to the radio and YouTube, then live performances and a tour followed. The show's blend of humor, popular contributors and an undercurrent of incisive political comment made it a resounding success. According to Forbes Magazine, "Citizen Poet," which the magazine defined as "an accidental business," earned $3 million in a year and a half, 90 percent of which was made from live shows. This is not a large sum by Russian showbiz standards, but it is gigantic in terms of the earning power of contemporary Russian literature – particularly poetry.
Dmitry Bykov participated in the 2011-2012 demonstrations and was elected to the Opposition Coordination Council. After the events of the Euromaidan in Kiev polarized Russian society, unofficial government supporters declared Bykov a traitor seeking to destroy the country from within. Now pro-government youth organizations almost always emblazon his picture on their placards depicting the new "enemies of Russia." One of Bykov's most acute statements on current Russian-Ukrainian relations comes from a lyric poem rather than a satirical one: "We have trudged senselessly all year, and I haven't brought you to the Crimea. / While it is ours, it will no longer be mine." The phrase "Crimea is ours" is a common patriotic slogan.
Claimed by both sides
Today no one is more associated with the idea of "protest poetry" than Vsevolod Yemelin. He is perhaps the only satirical poet whose works attract the attention of highbrow critics and literary scholars. Yemelin became a star in Moscow's poetic circles back in the 2000s, when literary clubs were very active and live poetry readings were gaining a new significance. Yemelin's clipped poems with their harsh rhymes were perfect for this context: he is angry, witty and skillful.
Yemelin's poems are presented through the medium of a precisely created protagonist whose characteristics are expressed in the book "Songs of the Bolotnaya," released after the waves of street protest-performances in 2011-2012.
Moscow's Bolotnaya Square was the original place where protestors clashed with police, but now this term is often used to refer to all opposition movements. Yemelin's protagonist is equally removed from both the official and opposition points of view. He feels close to the "simple folk": "I, like Putin, am closer to the company / of millers and turners." He goes to an opposition meeting, but he has many questions for the opposition leaders. In a seemingly naïve way he trots out the clichés that he has absorbed from television, but he mangles them in such a way that they totally lose their brainwashing potential.
In one of Yemelin's most famous poems the protagonist watches two TV channels: the official NTV tells him that he is receiving money from the American State Department, while the opposition channel Dozhd says that a certain Moscow restaurant has the best poached eggs. Neither message has any relevance to his life: he has never seen American money and does not look or dress in the right way to get past the restaurant's strict doormen.
This is exactly the position of the majority of educated Russians – the class that could at least take an interest in poetry. Yemelin's poetry brought him to the attention of the powers that be. He was called in for "discussions" with government departments focused on tackling extremism, but there were no serious repercussions. His protagonist's "centrism," which is rooted in simple, primary human needs, means that Yemelin's poems defy easy categorization. Radical nationalists post these poems on their blogs, and they have also been published in newspapers whose raison d'être is to viciously and recklessly criticize anything oppositional. But yet pro-opposition readers also consider Yemelin one of their own.
"I think that the popularity of civil poetry has dropped dramatically in the last six months," says Yemelin. "Social life is now characterized either by joy and celebration or by accusation and condemnation. Bearing in mind that contemporary civil poetry is mostly postmodernist, both moods are categorically unsuitable for it. Civil poetry thrives in a period of 'thaw' – when the political regime slackens control. Yeltsin's regime, for example, made sure this kind of poetry practically didn't exist. And today, too, civil poetry is being squeezed out – thanks to the various crackdowns and the general stifling atmosphere."
Experiments to combine satirical poetry and television are a thing of the past. The Internet has opened up a far greater audience for poets than conventional old media – even the most widely read print newspapers cannot come close. However, there is such an avalanche of information on the Web that even the most cutting poems can only garner modest attention. If we compare the situation to a hundred years ago, then the impact of individual poems and poets is certainly far lower than their Silver Age counterparts, whose words were less diluted. Perhaps there is also a case for suggesting that the Russian public is losing faith in the power of the poetic word. Yet in response, popular protest poets have been able to diversify their means of influence. These days they have become public figures who are heeded for the opinions they express in interviews and talk shows as well as through their poetry.
Mikhail Butov is a writer, literary critic and Russian Booker" prize laureate
All rights reserved by Rossiyskaya Gazeta.