Literature lovers can visit Pushkin and Mayakovsky online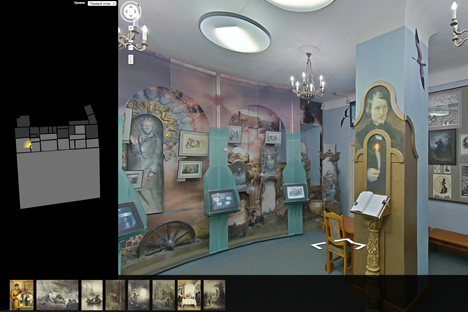 Inside the Nikolay Gogol's house, Memorial Museum in Moscow. Source: Google
Anyone who is keen to see famous Russian writers' house museums but doesn't have a trip to Moscow coming up can now do so thanks to Google's latest project. Pushkin, Mayakovsky and Gogol are among the writers chosen for full digitization.
Google, in conjunction with the Moscow Department of Culture, has unveiled a project called Literary Moscow, featuring digitized versions of the Russian capital's nine leading literary museums. These include the State Literary Museum and museums dedicated to Alexander Pushkin, Vladimir Mayakovsky, Nikolai Gogol, Mikhail Bulgakov, Sergei Yesenin, Konstantin Paustovsky, and Alexander Ostrovsky. Google is offering virtual panoramic excursions and digital exhibits illustrating the lives and work of these Russian authors and poets.
The project was presented at the First Moscow International Forum "Culture – Look into the Future." Participants included Director of the Moscow Department of Culture Sergei Kapkov, General Director of Google Russia Julia Solovieva, Program Manager at the Google Cultural Institute in Europe and Brazil Luisella Mazza, and the directors of the Moscow museums.
Inside the Nikolay Gogol's house, Memorial Museum in Moscow. Source: Google
Each museum has created its own virtual tour. The Pushkin museum has opened a virtual exhibit called "Portraits of Pushkin," which features rare portraits of the famous poet. The Gogol museum has put together an exhibit called "Gogol in Book Illustrations," and the Bulgakov museum is making a virtual tour of the famous "bad little flat" – a real room in a Moscow building near Patriarch's Ponds that served as the prototype for the abode of the "evil forces" in Bulgakov's novel "The Master and Margarita." Virtual tours of the museums are available using Google Street View. So far the information is mainly available in Russian, but in the future the project may be adapted for foreign users.
Virtual users have the unique opportunity to study manuscripts, drawings, portraits and other exhibits in great detail, which is not always possible at a real museum.
With the help of Literary Moscow's interactive map, users can not only look at museums, but also study popular routes associated with writers and plan strolls around the city. The map is already available at http://литературнаямосква.рф
Based on stories published in Russian at RG and Blogspot.ru.
All rights reserved by Rossiyskaya Gazeta.