Venedikt Erofeev's 'Walpurgis Night' is out in a translation by Marian Schwartz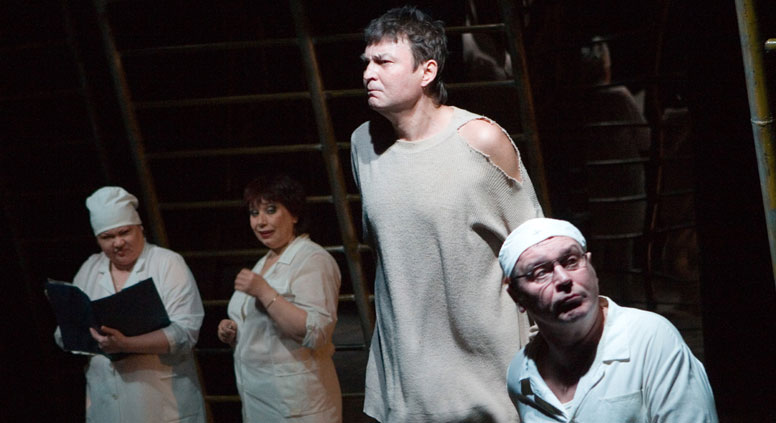 'Walpurgis Night' performance at the stage of Moscow's Yugo-zapadnaya theater. Source: Alexei Koshelev / PhotoXpress
The only play by Venedikt Erofeev, author of the epic "Moscow to the End of the Line," offers a terrifying look at Soviet reality from behind the doors of a mental asylum. Alluding to greats from Shakespeare to Pushkin, Erofeev creates a mesmerizing vision of a philosophical dispute in the face of death.
It's hard to imagine a much bleaker play than Venedikt Erofeev's "Walpurgis Night." Alcoholic Lev Gurevich is admitted to a Soviet psychiatric hospital, where the patients are abused. He seduces a nurse, steals some alcohol and the patients celebrate, only to find they have actually drunk poisonous wood spirit (methanol), indistinguishable from ethanol, and suffer a final, fatal liberation.
This is the simple story behind Erofeev's extraordinary five-act tragedy that is by turns comic and macabre, shocking and satirical. The play is now available in a brand new version by Marian Schwartz, translated with her usual virtuoso mastery of postmodern stylistics.
Overflowing with allusions
In 1969 Erofeev wrote a novel about a drunken intellectual riding a commuter train from Moscow towards Petushki. Variously translated as "Moscow to the End of the Line," "Moscow-Petushki" or "Moscow Stations," this stream-of-consciousness existential symphony, unpublished in the Soviet Union until 1989, secured the writer's reputation. In this "prose poem", Erofeev wove a tapestry of literary references, contrasting registers and philosophical digressions.
"Walpurgis Night," Erofeev's only play, was first published abroad in 1985. There is the same rich allusive patchwork, with references to everything from the Bible to Pushkin's retelling of Don Juan in "The Stone Guest" (it is also important to know that "Walpurgis Night" was alternatively titled "Steps of the Commander" by the author – a clear reference to Pushkin's play). Walpurgis Night is May Day Eve, as Gurevich tells the other patients: "Since the eighth century, this night has always been marked by something terrifying and wonderworking."
Ward 3, where Gurevich ends up, like Chekhov's "Ward 6" (also a mental asylum), is a place where the boundaries between madness and sanity are blurred. The patients, like those in Solzhenitsyn's "Cancer Ward," symbolize different outlooks. Gurevich's incarcerated companions include an ideologue, an idealist, a melancholy romantic and a satanic sexual mystic. Erofeev's drama has disturbing undercurrents of maniacal music and of sadism, from nurses spitting in patients' faces to nightmarish spurting syringes.
All the world's a stage
Gurevich often talks in verse; one of the doctors complains about his "Shakespearean iambs" and tells him ironically: "You're … not on stage." Many of the lines are neither pentameters nor especially iambic, but closer to the portentous, cryptic doggerel of King Lear's fool, suiting Gurevich's character as a lord of misrule.
One of the most interesting aspects of Erofeev's work – and most challenging for the translator – is his linguistic variety. When the doctor tells Gurevich that drinking is bad for him, Gurevich replies that's like telling Othello, when he's just killed his wife "that crushing a windpipe and trachea can lead to … asphyxiation." At the other end of the spectrum, the hospital's parrot (who in pythonesque fashion ends up dead) simply repeats: "Get to work, work, work. Go get fucked, fucked, fucked."
The play's complex and interlocking themes range from anti Semitism to the metaphysical nature of time. Above all, "Walpurgis Night" is a compelling commentary on the Soviet condition: "I've / Worn a straitjacket since I was born," says Gurevich.
All rights reserved by Rossiyskaya Gazeta.