Constructivism: Building a brave new world with art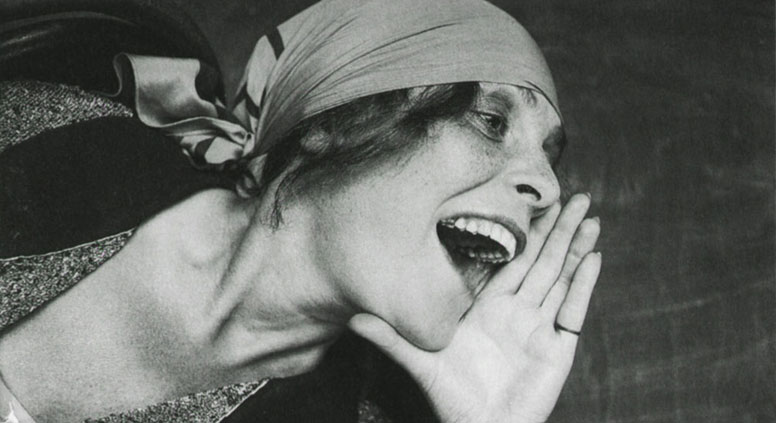 Alexander Rodchenko was the most prominent representative of Russian constructivism in photography. His images, such as the portrait of Lilya Brik, poet Vladimir Mayakovsky's lover, are world famous. Source: Alexander Rodchenko
A translation of Alexei Gan's utopian art manifesto showcases the revolutionary fervor of the Russian avant-garde.
In 1922 the Russian art theorist Alexei Gan published a manifesto for an unprecedented, utopian form of creativity. Christina Lodder, who has produced a new translation of Gan's extraordinary book, Constructivism, told RBTH: "Constructivism is a radical document and a vivid testament to one of the most experimental periods in the history of art, when political revolution generated a complete re-evaluation of the role of art."
Tribute to unsung hero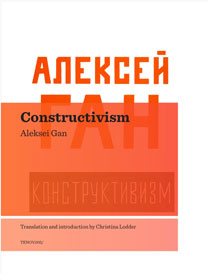 'Constructivism' by Alexei Gan and Christina Lodder, October, 2014. Source: amazon.com
"Gan is one of the unsung heroes of constructivism," Ms Lodder, a specialist in Russian modernism and lecturer in the history of art at the University of Kent, writes in her introduction. He formulated new ideas, "which he was convinced would ultimately lead to a better world", and argued for them as "agitator, publisher, activist and promoter". Constructivism explains the movement's aims, says Ms Lodder, "elaborating its principles, justifying its positions, relating it to socialist theories of art and trying to promote its acceptance by the government".
In March 1921, Gan teamed up with other theorists and artists, including Alexander Rodchenko and Varvara Stepanova, to form the first Working Group of Constructivists. The group's ideas about the synthesis of tectonics (structural architecture) with factura (materials) were central to Gan's theories. According to Ms Lodder: "Alexei Gan's book... is the most complete statement of constructivist aims and intentions during the early phase of its development in post-revolutionary Russia."
Culture of organised work
This new English edition of Gan's Constructivism preserves, so far as possible, the original typography and layout with its slanted underlinings and bold, capitalised slogans. The volume combines the aesthetic qualities of a historical artefact with the academic overview of Ms Lodder's informative introduction.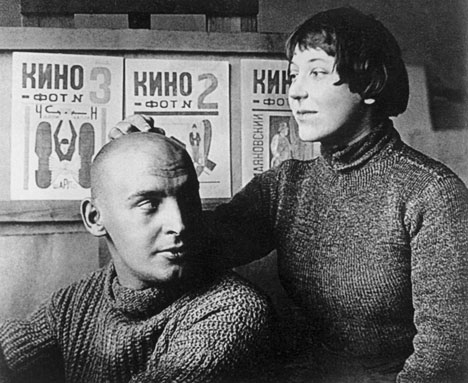 Alexander Rodchenko and his wife Varvara Stepanova pictured together in 1923. Source: Alexander Rodchenko / Vostok Photo
"Meaningful artistic work will emerge under conditions of purposeful activity," wrote Gan. He attacked traditional art as bourgeois and championed instead "the first culture of organised work and the intellect", constructivism. He helped to forge links between art and architecture, photography and printed texts. Ms Lodder describes Gan as "a cultural and political activist, an eclectic and talented figure, who had a finger in a whole range of avant-garde pies.
"Gan was one of the first theorists to write about post-revolutionary architecture and criticise the government's current cultural and artistic policy," she says.
"The constructivists rejected the idea of producing works of art for the delight of a few people. Instead, they wanted to use their artistic expertise to design useful objects that would help to create a new and better environment for the ordinary working mass of humanity to enjoy."
Structural elegance
Ms Lodder is something of a pioneer herself when it comes to bringing these artistic experiments to a wider audience. She first became interested in Russian art in 1968, when she saw Vladimir Tatlin's flying apparatus, Letatlin, being reconstructed by two young sculptors in Newcastle.
"The elegance of the structure and the ideas that prompted its creation fascinated me," Ms Lodder says. She tried to learn more about Russian art in general and Tatlin in particular, but found that "very little detailed information was available in English at that time".
Her desire to know more and understand the whole context of Russian art led her "to learn Russian, study in the Soviet Union, and write my book, Russian Constructivism" (published in 1983). Ever since, Ms Lodder has been researching and writing about the history of Russian creativity, especially "the extraordinary period of the 1910s to the Thirties, when artistic experimentation often went hand in hand with revolutionary developments and radical ideals". She is the author of several related works, including exhibition catalogues, and is considering future translations of Russian books about the history and theory of art.
Vladimir Tatlin's work still fascinates Ms Lodder, nearly half a century after she first encountered it. Tatlin's 1920 Tower or Model for a Monument to the Third International "acted as a paradigm of new possibilities", she says, "indicating how art, sculpture and architecture could be synthesised and harnessed to utilitarian, social and political objectives".
Tatlin's three-dimensional constructions made with ordinary materials began a "reassessment of the nature and role of art that ultimately led to the emergence of constructivism".
All rights reserved by Rossiyskaya Gazeta.