Read Russia: An American lover of Russian literature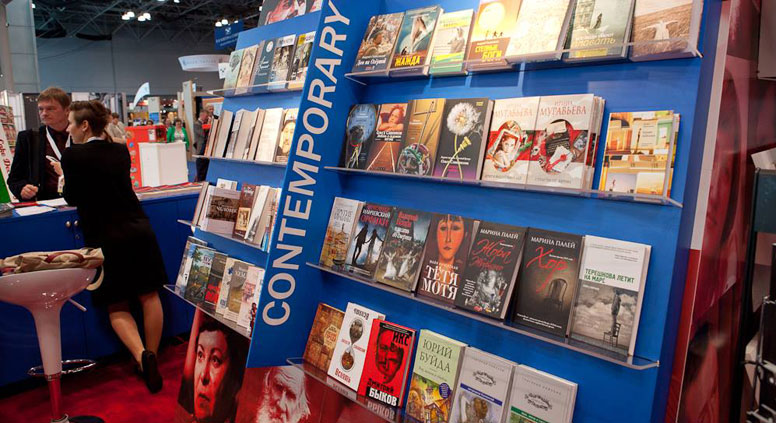 Read Russia program is taking part at many book fairs worldwide. Source: Press photo
As New York City hosts Russian Literature Week, Peter Kaufman, the founder of Read Russia, talks to RBTH about his mission to promote Russian literature.
Pinning down Peter Kaufman, the American activist on Russian literature who has devoted much of his life to promoting works by Russian authors, was no easy task. In constant demand for his work championing fiction dear to so many Russians, he travels frequently. Catching up with him on a train from New York to Boston, though far from Russia, was a fitting venue to discover why the nation's literature casts such an enduring spell over the world.
Russia Beyond the Headlines: When did you first encounter Russian literature and what effect did it have on you?
Peter Kaufman: It's hard to remember the first moment I fell in love with Russian literature, but I recall a sequence of events in my teenage years that ruined me forever. The first was in high school. My school, Choate Rosemary Hall – which counts John F. Kennedy, Adlai Stevenson, John Dos Passos and US assistant state department secretary, Victoria Nuland, among its alumni – was home to the finest high school Russian-language program in the United States.
The headquarters of the Russian Studies Center for Secondary Schools was housed in its library. I discovered the poets Alexander Blok and Vladimir Mayakovsky in that library. Through their poetry I was drawn into studying Russian history. Working the summer after high school at the Strand Book Store in New York, I came across a volume by Daniil Kharms and Alexander Vvedensky called "Russia's Lost Literature of the Absurd," which took my breath away.
When I got to college, at Cornell, my first course in Russian literature included reading Leo Tolstoy's "The Kreutzer Sonata" and listening to the Beethoven score that inspired it. My professor pointed out that you could hear both the violins and train in the text. After that, forget it.
RBTH: How did you become the world's leading advocate of Russian literature?
P.K.: I studied Russian for many years and, after graduate school at Columbia, I worked at think-tanks in New York devoted to the study and advocacy of foreign policy. After the fall of the Berlin Wall in 1989, I decided to learn more about publishing in central and eastern Europe, and took a trip to Romania to write about publishing there after the fall of the country's communist dictator, Nicolae Ceausescu. When my story was published in the Times Literary Supplement, I was given assignments in Hungary, Poland and Czechoslovakia – and began to create a non-profit organization dedicated to helping promote literary cultures marred by decades of totalitarian thought control. After 1991, I expanded those efforts to include Russia and the former Soviet Union. After I moved away from that world, friends in the world of Russian literature asked me to set up Read Russia and continue to promote ties between publishers and cultures.
RBTH: What are you now doing to promote Russian literature?
P.K.: Read Russia, founded in 2012, is a new initiative based in Moscow, New York, and London that celebrates Russian literature and culture. Through innovative programs, projects, and events supporting the English-language translation and publication of Russian works, Read Russia gives international audiences fresh opportunities to engage – in person, on screen, and online – with Russia's literary leaders and heritage. Our work includes the Read Russia Prize for translation, the Russian Library of translations in English, Russian Literature Week in New York, and many other activities in bookstores and online.
RBTH: Your latest venture is a new series of books, a 'Russian library.' What's the main idea behind this?
P.K.: The Russian Library is a series of books that will be published in English in the U.S., the UK, and throughout the world. Each title will be a translation from Russian literature. We shall have more details about this initiative after all the arrangements have been made with our partners and the initial list, chosen by an international advisory board, is ready. The books will begin appearing after that.
RBTH: What incentives are there for foreign readers to delve into the world of Russian writers?
P.K.: Russian literature for a foreign reader is like a driveway full of sapphires and emeralds – the greatest areas of excitement lie in polishing off gemstones that may become future classics.
RBTH: Do you have UK-based activities related to this project?
P.K.: Read Russia promotes Russian works in English wherever they may be. The UK is one of the most fertile markets and home to many of the best English-language translators and publishers. Our attendance at the London Book Fair this year was highly productive, but I think we should be doing much more in the UK.
RBTH: Which books offer the best way to understand Russia?
P.K.: Gogol's "Dead Souls." But sometimes a little Kharms still works wonders.
Discover more about Read Russia and Russian books and writers with RBTH literature
All rights reserved by Rossiyskaya Gazeta.