The enduring appeal of Russia's avant-garde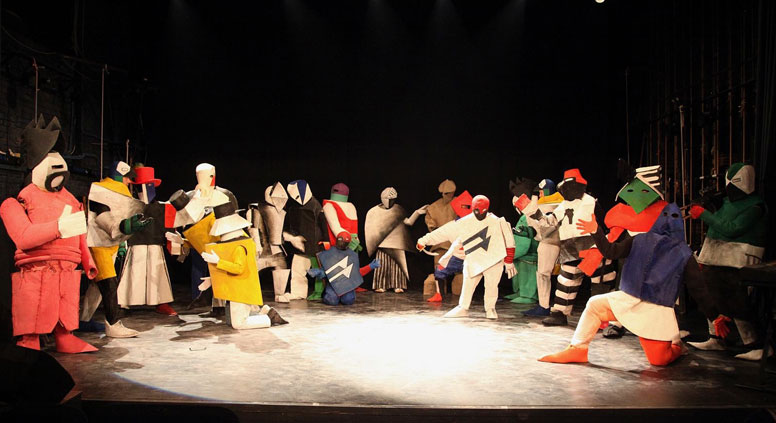 Performance of 'Victory over the Sun' opera in Moscow Stas Namin theatre. Costumes designed by Kazimir Malevich. Source: Moscow Stas Namin theater
2014 saw celebrations of many forms of futurism in music and poetry, film, art and architecture.
During the first scene of Aleksei Kruchenykh's futurist opera "Victory over the Sun," a Time Traveler rides onto the stage. "The eyes of lunatics … wink at skyscrapers and marketwomen have placed themselves on spiral staircases," he tells the audience. The surrealist language coined for this disjointed opera, with its fragmentary dissonant music, makes no more sense now than it did in 1913, but that has not stopped a series of brave directors resurrecting the work during the intervening century.
Performance art and poetry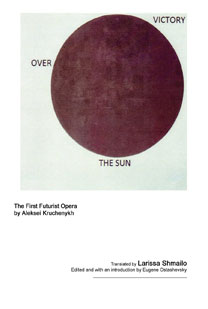 'Victory over the Sun' by Aleksei Kruchenykh, Cervena Barva Press, 2014. Source: Amazon
September 2014 saw the first publication in print of Larissa Shmailo's translation of "Victory over the Sun," which was used for a 1980 reconstruction in Los Angeles and later in Washington, Berlin and at Brooklyn's Next Wave Festival. Most recently, Moscow's innovative Garage Museum incorporated the opera into this fall's ambitious exhibition: "Russian Performance: A Cartography of its History," surveying a hundred years of performance art from "the early experiments of the Futurists to the radical actions of today."
Earlier in 2014, a huge exhibition in the Moscow Manezh by British filmmaker Peter Greenaway and Dutch theater director Saskia Boddeke was dedicated to "The Golden Age of the Russian Avant-Garde." This massive installation presented a series of films alongside hundreds of artworks, constructing an avant-garde dialog between different media and methods. Peter Greenaway told Kommersant newspaper that of the 12 featured artists, "Dziga Vertov, El Lisitsky and Alexander Rodchenko turned to be perhaps the most important for me – to a large extent, these three artists began the things being practiced everywhere now."
Composer Jeremy Arden, who recreated the music for a 1999 staging of "Victory over the Sun" at the Barbican, also described the "plural mess called now" as coming "directly out of these radicals then." The Barbican version, based on Rosamund Bartlett's recently-published translation, highlighted the opera's prologue, written by futurist poet Velimir Khlebnikov.
Dash Arts, a group based in Shoreditch, London, have commissioned an exhibition of visual art for 2015 inspired by Khlebnikov's poetry. Dash co-director Josephine Burton told RBTH: "I came to Khlebnikov through music. I heard some of his poems set to music by Vladimir Martynov in late 2012 and was utterly intrigued by the richness and audible insanity of his work ..." Like other futurists, many of Khlebnikov's ideas sprang from the promise of the revolution. Burton was drawn "to his utopianism, nomadism, interest in cross-disciplinary practices and obsession with language."
Radical art and architecture
Several London museums were celebrating modernism this year. The Courtauld Institute had a small but stunning selection of works by the early 20th-century Moscow-based Jack of Diamonds Group, including works by such "amazons of the avant-garde" as Natalia Goncharova and Alexandra Exter. The Royal Academy's current display of 20th-century architecture (until February 1) includes modernist landmarks by Russian-born pioneer Berthold Lubetkin.
Zaha Hadid, a London-based architect whose work is heavily influenced by suprematism, hopes, like the artists of the avant-garde, to "apply radical new ideas to regenerate society." Many of her iconic buildings, such as the Vitra Fire Station in Germany, grew directly out of her research into these ideas. "Studying Malevich allowed me to develop abstraction as an investigative principle," she wrote in the Royal Academy's June magazine.
Andrew Spira, author of "The Avant-Garde Icon" and a former curator at the Victoria and Albert museum, feels the impending centenary of the 1917 revolution is one of several factors in today's resurgent interest in suprematism. "Malevich's work is a combination of the artistic, political and spiritual dreams that converged on the Russian Revolution," Spira told RBTH. "Everyone hoped there would be a completely new world."
Kazimir Malevich's bold, geometric designs for "Victory over the Sun" are on show at London's Victoria and Albert Museum (until January 25) as part of a glorious exhibition of avant-garde theater design, incorporating costumes by Alexander Rodchenko or set models by Liubov Popova. The earliest version of Malevich's famous "Black Square" appeared in a theatrical sketch.
An image that transcends time
In 1915 Malevich exhibited the first Black Square and published his manifesto of suprematist art, championing abstraction and calling young artists "out into contemporary life to find a new beauty." Nearly a century later, the Tate Modern Museum in London held a major retrospective, in fall 2014, of work from all phases of Malevich's creative life.
Curator Achim Borchardt-Hume has edited a handsome new book about Malevich (Tate Publishing, 2014), a monument to the artist's lasting influence with essays by international experts. In it Borchardt-Hume describes the symbolic power of the Black Square, a revolutionary icon: "no other work demarcated this zero hour in modernist art with greater panache."
But in 1935 "within months of Malevich's burial, his art was banned from public view" because it did not fit the official aesthetic. The Black Square was not exhibited again until the 1980s. Only the idea of it remained, says Borchardt-Hume, "casting a long shadow across twentieth-century art right up to the present day … Like all true icons it became an image that transcended its time."
All rights reserved by Rossiyskaya Gazeta.