As a young man, Alexander Pushkin was greatly influenced by the English Romantic poet Lord Byron, before outgrowing him to produce his masterpiece 'Eugene Onegin,' which challenges and extends Byron's work.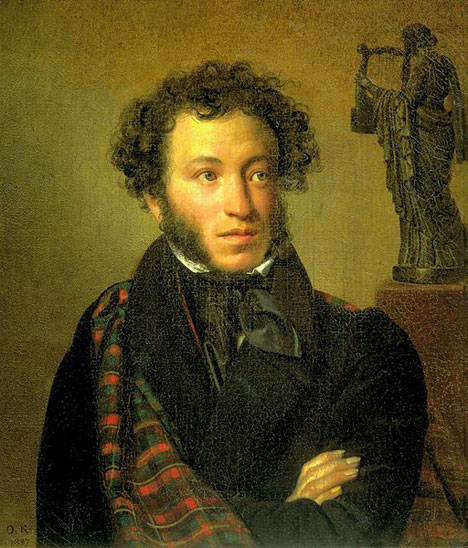 Portrait of Alexander Pushkin by Orest Kiprensky, 1827. Source: open sources
The years 1820-1826 have been called Pushkin's "Byronic period," and Pushkin himself is sometimes described as the "Russian Byron."
Pushkin expert Derek Bethea suggests that Pushkin "fell under the spell of Romanticism" during his time in southern Russia, and the English poet's influence is evident in the Romantic styling of Pushkin's narrative poems "A Prisoner of the Caucasus" (1820-1821) and "The Fountain of Bakhchisarai" (1822), both of which were directly influenced by Byron's "Oriental Tales."
By the time his masterpiece "Eugene Onegin"was published in 1833, however, Pushkin had developed a more critical approach to Byron's work. Byron expert Peter Cochran jokes that "a possible subtitle for 'Onegin' would be 'reading Byron will ruin your life,'" and the changing tone of Pushkin's views offers a fascinating insight into the development of the great Russian poet's literary craftsmanship.
Liberal aristocrats
As a young man, Pushkin found much to admire in Byron's life as well as his poetry. Lord George Byron was a politically liberal English aristocrat who had grown up in relative poverty before inheriting his title from an uncle. He lived daringly and challenged political and social norms; in 1812 Byron outraged the British Parliament by supporting a controversial bill for workers' rights. "You may call the people a mob," he declared in an impassioned speech, "but not forget that a mob too often speaks the sentiments of the people."
Like Byron, Pushkin was a poor aristocrat with a strong belief in social justice, and his poems express sympathy for victims of oppression and inequality. In 1820, Pushkin was banished from St. Petersburg for publishing poems of political dissent, including the famous "Ode to Liberty," which warns the Tsars that "Neither punishments nor rewards… Will protect you any more." Pushkin also shared Byron's enthusiasm for romantic affairs, and was briefly involved with Calypso Polichroni, a Greek woman supposed to have been previously entangled with Byron.
After Pushkin moved to Odessa in 1823, the region's governor Vorontsov begged the Minister of Foreign Affairs to "rid me of Pushkin," dismissing the young poet as a feeble imitator "of a disreputable eccentric called Lord Byron." Vorontsov's ire was probably exacerbated by personal affairs, since, with Byronic reckless abandon, Pushkin was openly pursuing a romance with the governor's wife.
The spell of Romanticism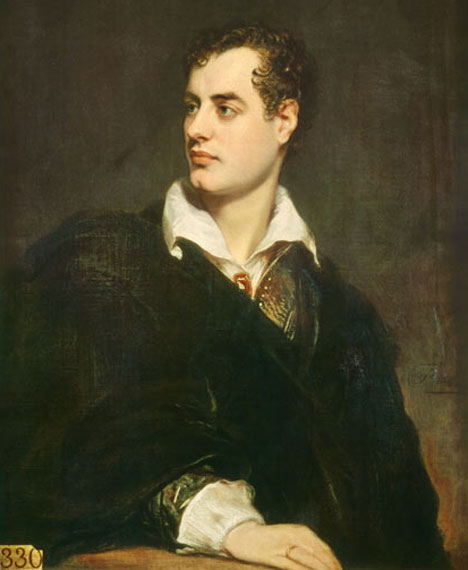 Portrait of Lord Byron by Thomas Phillips, 1824. Source: open sources
Even more than his compelling personality and radical politics, Byron's poetry captured Pushkin's youthful imagination. Pushkin's admiration for Byron and other European poets encouraged him to move away from the classical inflections of his earlier poems, as he began to experiment with more expressive depictions of people and landscapes. His adoption of a more overtly Romantic style is evident in "To the Sea," a poem which Pushkin described as "a small memento for the repose of the soul of God's servant Byron." The poem's concluding lines compare the ocean with the "indomitable" poet:
He was marked by your image
He was created by your spirit.
Like you, he was powerful, deep, and gloomy.
Like you, he was indomitable. ("To the Sea")
The grand comparisons imply deep admiration. Academic Stephanie Sandler suggests that "Byron and the sea seem mutually part of each other," and Byron's death is "a loss capable of emptying the world of all meaning." However, Pushkin was characteristically acerbic when announcing the theme of "To the Sea." "I would have undertaken a whole requiem," he announced, "but it is boring to write for myself alone."
Life After Byron
Despite admiring Byron's talent, Pushkin was quick to find flaws in his later works, observing that "Byron's genius grew pale with advancing years." He increasingly saw Byron as a poetic figurehead rather than a direct literary influence. As early as 1824 Pushkin was able to respond to news of the poet's death with a wry comment on its potential transformation into art: "You are sad about Byron," he wrote to his friend, poet Petr Vyazemsky, but "I am so glad of his death, as a lofty subject for poetry."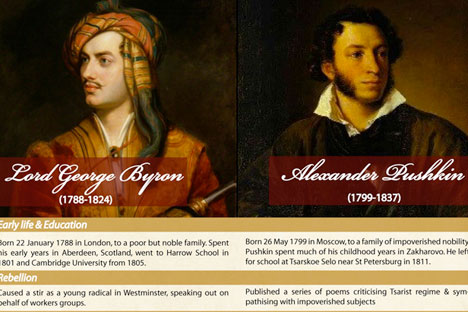 Click to enlarge the infographics
In "Eugene Onegin"(1833), Pushkin transformed his critique of Byron into an artwork which simultaneously channels and challenges his Romantic predecessor. Although the structure of "Onegin" was inspired by Byron's long poem "Don Juan,"it shuns the exotic landscapes found in "Don Juan"in favor of a close study of the Russian way of life. Peter Cochran argues that "the Byronic hero constituted a cult in which Pushkin found a subject for satire," and Pushkin manages to combine this satirical approach with pathos to present a fully rounded and plausible world, within the framework of a well-structured plot.
As writer and novelist Maurice Baring suggests, "Byron helped Pushkin to discover himself," although the poets' methods and workmanship were "radically different." It is testament to the power of Pushkin's talent, as well as the importance of Byron as a poetic influence, that Pushkin was able to draw on his youthful admiration to create Eugene Onegin, a work which transcends its predecessors, and continues to be admired as a timeless classic.
Dr. Dorothy Butchard is an academic researcher specializing in the study of literature and technology. She currently teaches 19th and 20th century literary culture, and her latest project traces connections between American, British and Russian literature.
Updated: The expert's name is Peter Cochran, RBTH apologizes for mistake.
All rights reserved by Rossiyskaya Gazeta.