The Russian book industry is at a crossroads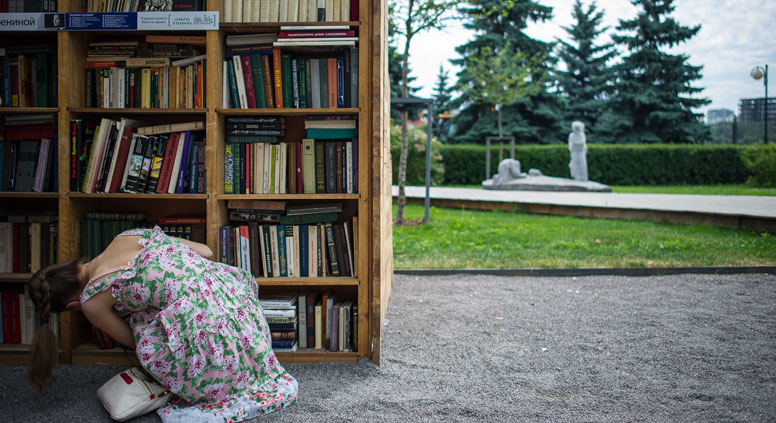 In the Soviet period all sectors of society gained access to literature and now there are cities without a single bookstore. Source: RIA Novosti / Alexei Furman
The 2015 Year of Literature is designed to stimulate reading in Russia, but the country's book industry is facing its toughest test for decades. 

The changing fortunes of the Russian book industry have mirrored the country's complex history, and with the financial situation worsening, bookstores are coming under pressure to adapt. 


Changing fortunes


The Russian book industry has been through many changes in the past 100 years. Before the 1917 Revolution, readers were largely restricted to wealthy aristocrats, who made up a tiny fraction of the population. Books were expensive and highly targeted towards particular readers; they were profitable for publishers and successful authors became icons. This was the time when Russian literature flowered to its fullest extent. 

Readership became more democratic in the Soviet period, and all sectors of society gained access to literature. Book distribution networks were highly developed, which allowed even average authors to sell tens of thousands of copies. However, there was still a shortage of books that were in high demand, which created a paradox: despite the huge amount of bookstores, there was still a black market for books. 

Perestroika allowed this shortage to be addressed, leading to an upsurge in legal book sales, which actually overtook alcohol in terms of turnover. Today, though, the book industry is facing stagnation. Literary critic Konstantin Milchin, who works for Russian Reporter magazine, believes that "each year is worse than the previous one." He suggests that there are "objective reasons" for this and predicts that the financial crisis will only accelerate this process.


An alarming trend


Bookstores themselves are the main factor driving up the cost of books in Russia. Their rent is the same as the shops around them, such as cafes, liquor stores or even expensive car boutiques. "The writer Vasily Rosanov said that 'books should be expensive,'" writer Alexei Varlamov says: "But in my opinion, books cost too much in Russia. Their price in bookstores is two or three times higher than the publishing houses are setting."
The difficulty faced by bookstores is reflected in their dwindling numbers. Boris Kupriyanov, the co-founder of the Falanster chain of bookstores, describes the situation as "catastrophic." He explains that there are now only 400-500 bookstores in Moscow, which is 11 times less than London. 

Kupriyanov also points out that books are first and foremost cultural products rather than commodities, and expresses his fear for the future of reading in Russia if the situation is not addressed: "A huge amount of our country's classic bookstores have been closed forever. There are cities without a single bookstore. My forecast is not comforting: we risk having a youth that does not read at all."
Modern developments have certainly made it harder to attract young people into bookstores. We must remember that we are living in a post-Gutenberg epoch where it is two or three times cheaper to download a book than buy it in print form.
The need for modernization
Boris Yesenkin, president of Biblio-Globus, one of the biggest bookstores in the country, believes that the industry must adapt to keep pace with modern developments. "The traditional bookstore needs modernizing. It has to be a multifunctional cultural center, perhaps even combined with school libraries. If you can't afford a book, you should be able to borrow it to read – libraries can mediate this process."

 As well as modernizing existing stores, money must be invested in regional development.
"Book distribution networks have been ruined in recent years," Alexei Varlamov says. "The situation is even worse in the regions, where publishing a book is the same as publishing it for yourself. As a result, almost all literary engagement is restricted to our two main urban centers: Moscow and St. Petersburg."

The problem is complex and can only be resolved with a complex approach that extends beyond the Year of Literature. Money must be invested into maintaining and reviving regional as well as central bookstores, otherwise a significant portion of the country faces being cut off from this important cultural marker.
First published in Russian in Rossiyskaya Gazeta
All rights reserved by Rossiyskaya Gazeta.