A wondrous moment: Pushkin poem is translated into 210 languages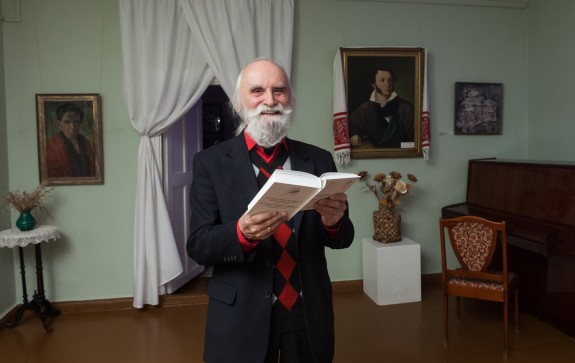 Boris Yegorov. Source: Anna Chistyakova/RG
Boris Yegorov, a literary expert and the director of the Arkhangelsk Literature Museum, has collected and published 210 translations of Pushkin's poem I Still Recall the Wondrous Moment.
"First our literature museum collected books of Pushkin's translations into different languages," explains Yegorov. "We received packages from all over the world as well as Russia."
Yegorov's painstaking correspondence with many people who could help in translating the poem lasted four years. He used both diplomatic and personal ties in the project: Russian Foreign Minister Sergei Lavrov was one of the most active supporters of the idea. 140 of the 210 translations were completed especially for the literary museum.
"I worked at night, keeping it secret from my wife," says Yegorov. "I wanted the book to be a surprise to her – and it was. I still can't believe that the work is finished and the book has been published."
Yegorov relates how he asked a representative from a small indigenous tribe in the north of Russia to translate the poem. He received the reply that their language did not have the concept of a "wondrous moment," so it was impossible to translate the poem. "I tried to convince him that there must be something similar in his language. Something like, 'Still I remember you appear/ Before me like an aurora fleeting …' Three weeks later I received the translation.
Yegorov has many such stories. For example, to get a translation into Bribri, representatives from the Russian embassy went to a Bribri reservation in southern Costa Rica – an unlikely location to hear Pushkin read aloud.
The poem was translated into many exotic languages, including Guarani, Quechua, Maya, Māori, Pushtu, Sango, Fang, Hindi and plenty more.
"I get a lump in my throat when I re-read the replies to my requests for translations," Yegorov admits. "The subject-heading of a letter from Albania was 'Thanks for the Russianness.' I realized that our people miss the Russian language a lot – especially if they're far away from the country. It is a unifiying force, it helps to bring people together."
The book's print run is 4,000, and it has attracted interest inside and outside Russia – one of the first orders came from Indonesia, for example.
I still recall the wondrous moment:
When you appeared before my sight
As though a brief and fleeting omen,
Pure phantom in enchanting light.

In sorrow, when I felt unwell,
Caught in the bustle, in a daze,
I fell under your voice's spell
And dreamt the features of your face.

Years passed and gales had dispelled
My former hopes, and in those days,
I lost your voice's sacred spell,
The holy features of your face.

Detained in darkness, isolation,
My days began to drag in strife.
Without faith and inspiration,
Without tears, and love and life.

My soul attained its waking moment:
You re-appeared before my sight,
As though a brief and fleeting omen,
Pure phantom in enchanting light.

And now, my heart, with fascination,
Beats rapidly and finds revived
Devout faith and inspiration,
And tender tears and love and life.
Translated by Andrey Kneller
First published in Russian at godliteratury.ru
All rights reserved by Rossiyskaya Gazeta.