5 leading Russian children's book illustrators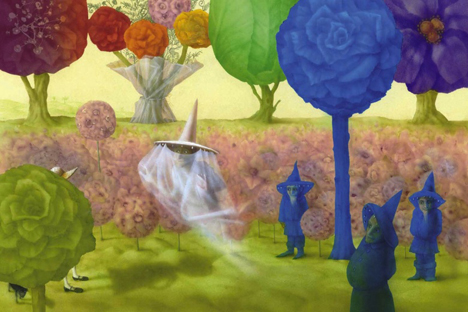 Soviet-era illustrators were very different, but they all had one thing in common: their visual depictions of the written text followed it faithfully, without jumping ahead or adding anything. This tradition is changing now, as book artists begin to see themselves as co-authors, as the text's first reader – someone whose interpretation of the text influences subsequent readers' reaction to it.
Igor Oleinikov
Source: Press photo
Oleinikov is an amazing artist in every respect. Firstly, he has no formal art training, and secondly he has a precise and dynamic manner of drawing, apparently honed during his work as an animator: among his credits is the animated feature film The Mystery of the Third Planet, which was screened with success in the U.S., the UK, France, Italy and Japan. Finally, he is highly inventive; it is not his style to draw in a straightforward way that follows the text to the letter, and his illustrations are always an interpretation of the text. Oleinikov alters the personality of familiar characters, and sometimes even introduces his own. He once said that if he was to illustrate the fairy tale The Turnip, he would portray the world as this vegetable, which cannot be pulled out of the ground as it is being held down at the roots by people living underground.
Gennady Spirin
Source: Press photo
Gennady Spirin moved to Germany in the late 1980s, and then to the United States in 1991 on the invitation of the Philomel and Dial Press publishers. According to his friends, Spirin's idols are the Russian icon painter Andrei Rublev and the Dutch artist Pieter Brueghel, but his style cannot be pigeonholed. Some of his famous illustration work includes The Princess and the Pea by Hans Christian Andersen, Black Hen by Antony Pogorelsky and The Velveteen Rabbit by Margery Williams, all of which portray their own special artistic world. His illustrations are stored in an art museum in Milan and the library at Princeton University.
Yulia Gukova
Source: Press photo
Like many Russian illustrators, Julia Gukova has been better known in Germany, Switzerland and the United States over the past decade than at home, but her books are gradually returning to the domestic market. It is often the background in Gukova's drawings that stands out, rather than the characters: a poppy field that a small girl is walking through with a tin man, a lion and a scarecrow (The Wonderful Wizard of Oz by L. Frank Baum), or a table with a vital key lying on it and a miniature Alice somewhere at the bottom of the picture (Alice in Wonderland by Lewis Carroll).
Victoria Fomina
Source: Press photo
Books illustrated by Victoria Fomina have been published all over the world – in France, the U.S., Switzerland, Italy and Taiwan, among others. She has illustrated more than 30 books, including Five Tales for the Theatre by Carlo Gozzi, Roxana: The Fortunate Mistress by Daniel Defoe, Mary Poppins by P. L. Travers and The Merchant of Venice and A Midsummer Night's Dream by Shakespeare. But, just like Julia Gukova, books with Fomina's illustrations are only now starting to reach a Russian audience. The most recent publication to include her work is Tchaikovsky, or Magic Pen by Boris Yevseyev.
Anton Lomayev
Source: Press photo
This 44-year-old Russian artist is primarily known for his illustrations for Wolfhound, a series of fantasy novels by Russian writer Maria Semyonova, and other fantasy books by authors such as Ted Williams, Holm van Zaichik, Andrzej Sapkowski and Tolkein. This experience has also given him a talent for illustrating fairy tales too. Hans Christian Andersen's The Little Mermaid might seem like it contains too many details, but take a closer look, and it turns out that everything is relevant. In illustrating this story, Lomayev grows into the world offered by the author, teasing out what is left unsaid without adding anything superfluous.
All rights reserved by Rossiyskaya Gazeta.