Passion and social change: The modern rise of Turgenev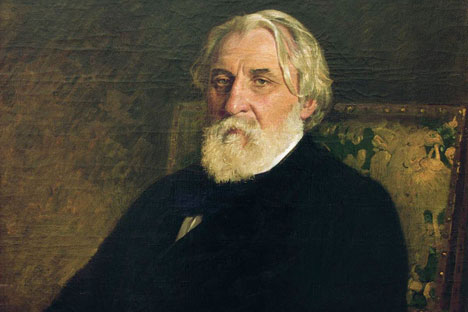 Ivan Turgenev, portrait by Ilya Repin, 1874
State Tretyakov Gallery/Wikipedia
Considered a lesser playwright to Chekhov for many years, Ivan Turgenev is finding new popularity among theatergoers, who are responding well to his passionate stories set in a changing world.
"They'll put that on my grave: 'here lies Boris Trigorin. He was good. But not as good as Turgenev'," so says Chekhov's self-involved writer in The Seagull. But Chekhov has been considered the superior playwright for many years. Now, however, it seems that Chekhov's inferiority complex - as voiced by Trigorin - may well be justified. With a new version of A Month in the Country opening at the National in London, another version playing successfully in New York, a stage version of Fathers and Sons being a West End hit last year and Fortune's Fool before that, Turgenev appears to be overtaking Chekhov as the West's favorite Russian dramatist.
Full-blooded characters
Isaiah Berlin says that Stanislavsky set the tone for early productions of A Month in the Country by considering the play "so psychologically fine that it doesn't allow of any decor, scarcely any gestures." It was firmly placed in the established tradition of psychological realism. After the revolution the play was seen as a clash of fading aristocrats with the new men. I would argue that we are now entering a new stage in our interpretation of the play, seeing it as an exploration of extreme passion. It seems that the full-blooded nature of Turgenev's characters is being enhanced and that this has more appeal to our theatrical palates than Chekhov's more minor-key, melancholic tone. Turgenev's characters are always in the white-heat of passion, dealing with extremely fast-changing situations.
Patrick Marber's new version, the more accurately titled Three Days in the Country, brings out Turgenev's bold, visceral and carnal qualities. Marber compresses the action enormously, and physicalizes characters' predicaments which are more internal in the original.
Take, for example, the scene in Act Three where Natalya tells Vera that she has a suitor. Thinking it is Belyaev, Vera is overjoyed, but when she's informed it is actually old Bolshintsov, in the original, as translated by Isaiah Berlin, Vera "suddenly begins to laugh, then stops." In Marber's new version we have the wonderful line from Vera, on hearing Bolshintov's name: "I'm going to be sick," and then the stage direction "She puts her hand to her mouth. Swallows. Swallows." Some may see this as an unnecessary addition but it seems very much in the spirit of the original where we are witnessing characters going through extreme passion and distressing situations.
A fast-changing world
Later in the play there is a curious moment when Belyaev offers the servant girl Katya a peach. Initially she refuses, but he persuades her: "I picked it for you … I really did" and she takes it. Marber expands this moment. There is the suggestion that just before this Katya and Belyaev has had some kind of sexual encounter in the store room. Marber has Katya eat the peach in silence while looking intensely at Belyaev, she then gives him the stone which he "puts … to his lips and then in his mouth." This is not an imposition; there is something sexual in the original exchange, but it is enhanced. It seems Marber is making more explicit Turgenev's preoccupation with youthful passion. Other productions have also brought out the play's sexuality. In Jonathan Kent's recent production, using Brian Friel's translation, the critic Michael Billington said the Natalya asked another character to a picnic "as if asking someone to an orgy."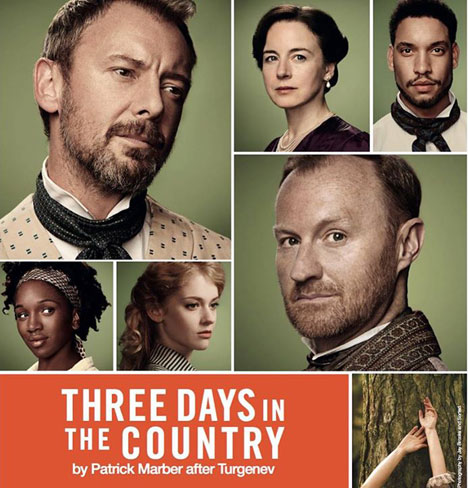 Perhaps another reason why, as Mike Poulton put it, 'Turgenev's characters address us as if they were our contemporaries and friends' is that they deal more directly with the prospect of, and the youthful desire for, revolution. Turgenev's world of frustrated wives and wandering nihilists is strangely familiar. Where Chekhov is oblique, Turgenev is direct. As Isaiah Berlin wrote, "A Month in the Country is "more radical in tone … contain[s] more social protest, than any play by Ostrovsky or Chekhov." Turgenev writes directly about the ideas behind social revolution rather than hinting at them. This chimes with the highly connected world we live in, where social media is exposing a wider range of people to activism, and campaigns such as gay marriage, anti-fracking and Occupy Wall Street can gain support quickly and easily.
Indeed, Belyaev - and Nezhadanov in Virgin Soil - with their charisma, their passion, their romance, their self-awareness and moral complexity, call to mind a modern figure like the British comedian and social activist Russell Brand. Perhaps playwrights and audiences are turning to Turgenev for insight and guidance as he explores the motivations of these characters and their ambiguous attempts to bring about social change.
Patrick Marber's Three Days in the Country is playing at the National Theatre, London July 21 (press night is 28 July) until October 21.
All rights reserved by Rossiyskaya Gazeta.