| | |
| --- | --- |
| | |
| Valentina Polukhina. Source: Alexander Korolkov / RG | From Those Who Remember Me. Source: Tomsk State University |
Russian poet Joseph Brodsky would have turned 75 this year. To commemorate this, a Tomsk publisher has issued a book of poems From Those Who Remember Me. Brodsky once wrote 'Those who forget me would make a city', but this anthology proves there are many more that remember him.
"Over the years I have collected several hundreds poems dedicated to Brodsky by poets from all over the world", British-Russian scholar Valentina Polukhina, who was a friend of Brodsky, told RBTH. Three years ago, Polukhina decided to issue an anthology of these poems and selected 115 Russian and 55 foreign poets, asking some to compose verse especially for the commemorative book.
"When I approached British poets none refused since all of them either knew Brodsky personally or admired his work. I am proud to say that two of 18 British poets are the patrons of my charity - The Russian Poets Fund - the former Archbishop of Canterbury Baron Rowan Williams and a former Poet Laureate of UK - Sir Andrew Motion," Polukhina says.
Born in England, American citizen Wystan Hugh Auden (1907-1973) was regarded by many critics as one of the greatest writers of the 20th century. He was also a prolific writer of prose essays and reviews on different subjects.
"W. H. Auden met Brodsky in Vienna and brought him to London Poetry International Festival of which Daniel Weissbort was one of the organizers," Polukhina said.
Photo:Joseph Brodsky. Source: Opale / East News
W. H. Auden, Foreword to Joseph Brodsky "Selected Poems" (Penguin Books, 1973
One demands two things of a poem. Firstly, it must be a well-made verbal object that does honor to the language in which it is written. Secondly, it must say something significant about a reality common to us all, but perceived from a unique perspective. What the poet say has never been said before, but, once he has said it, his readers recognize its validity for themselves.
…My chief reason for believing that Professor Kline's translations do justice to their original is that they convince me that Joseph Brodsky is an excellent craftsman… Mr Brodsky commands many tones of voice, from the lyric (A Christmas Ballad) to the elegiac (Verses on the Death of T. S. Eliot) to the comic-grotesque (Two Hours in an Empty Tank), and can handle with ease a wide variety of rhythms and meters, short lines, long lines, iambics, anapaestic, masculine rhymes and feminine…
About the uniqueness and, at the same time, universal relevance of a poet's vision, it is easier for a foreigner to judge, since this does not primarily depend upon the language in which it is written.
Mr. Brodsky is not an easy poet, but even a cursory reading will reveal that, like Van Gogh and Virginia Woolf, he has an extraordinary capacity to envision material object as sacramental signs, messengers from the unseen…
He is a traditionalist in the sense that he is interested in what most poets in all ages have been interested in, that is, in personal encounters with nature, human artifacts, persons loved or revered, and in reflections upon the human condition, death, and the meaning of existence.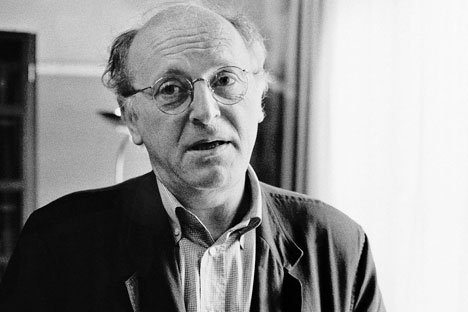 Daniel Weissbort (1935-2013) was a co-founder of the journal Modern Poetry in Translation. He published anthologies of Russian Poetry of XX Century, and with Valentina Polukhina - An Anthology of Contemporary Russian Women Poets (2005). His memoir of the late Joseph Brodsky is entitled From Russian with Love.
Joseph Brodsky. Source: EPA
Daniel Weissbort
You were among us, Joseph…
I think, biblically.
At least, that is what springs in mind.
Like a child, a different being,
strangely unprotected, unprotectable,
and so with that tough-guy stance.
Tender. Well, there is no need to think of it,
because you said it yourself.
Your tenderly, with tenderness —
I wince now, as I did then,
The word, resuscitated in our language,
yours as much as mine.
Nothing to do with flower children,
with reimagined gender roles.
To do with language simply.
You were, found yourself,
among us, were there to be found,
were found, belonging,
more so than the indigenous even…
Because you changed wherever it was you were.
We did not believe, couldn't,
yet accepted the fait-accompli.
Its saving virtue that,
our acceptance of the fait-accompli.
An accomplished fact, then, Joseph,
and somehow we found ourselves in the middle
of a conversation with you,
as we were when suddenly
you were an absence in our lives.
1996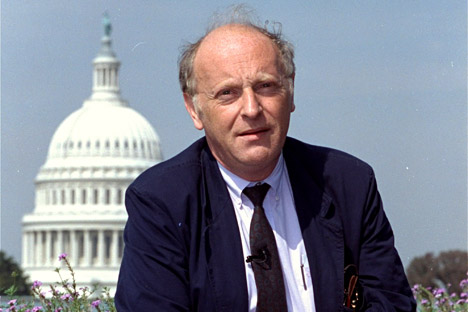 Peter Jay (born in 1945) was Assistant Director for the London Poetry International Festivals from 1969–73. He has edited several anthologies of poetry and
translations.
He has also published Weissbort's memoir From Russian
with Love.
Joseph Brodsky in Washington D.C., October 1991. Source: AP
Peter Jay
Lifelines
to Joseph Brodsky, for our joint birthday
Fragments about the lost or dead
Hung in the air; wandering overhead
A disembodied voice drawled on
Snaring our talk with talk of revolution.
You groped for foreign words, orphaned
In a cold bar, a solitary no-man's-land,
And haltingly you read to me
Translating your translation of The Flea.
What's freedom but the rule of poetry?
Such separate worlds in this combine,
Making a new world, neither yours nor mine,
Where sense may apprehend and search
What we in our twin closed spheres cannot reach.
So we are entangled, when we've done
Marvelling at the quick net of a pun,
In the still life of poetry,
Through which we climb to common territory
By lifelines rhymed in triple sympathy.
1974
"The origin of the poem is backstage at London's Royal Festival Hall at the Poetry International Festival of 1972, when Joseph made his first appearance in England. My job as assistant director was mainly to keep the poets happy, help them in practical ways with transport etc., and make sure they knew where they should be and when. So I came to be keeping Joseph company before or after his reading, I forget which.
"The opening describes hearing in the background over the PA system the voice of a poet reading onstage (it was Robert Lowell). I discovered that Joseph and I shared a birthday – he was five years older than me – and his passion for the English Metaphysical poets. So my poem becomes a double homage by using the stanza form of John Donne's 'The Flea', which as it mentions he had translated. The Donne pun ('done'), was John Donne's own, but Andrew Marvell as far as I know did not use 'marvelling'," the author comments in the anthology.
Rowan Douglas Williams (born in 1950) is an Anglican bishop, theologian and poet. From 2002 until 2012 he was the 104th Archbishop of Canterbury.
On 26 December 2012, 10 Downing Street announced Williams' elevation to the peerage as a Life Baron, so that he could continue to speak in the Upper House of Parliament.
Dr. Williams speaks fluent Russian and has published several books on V. N. Lossky and F. M. Dostoevsky. As a poet he published three collections of poems.
A monument near the U.S. Embassy in Moscow. Source: PhotoXpress
Rowan Williams
Waters of Babylon: i.m. Joseph Brodsky
Tomi
One of them sat by the Black Sea,
his tongue dry from its stillness, afraid
that moisture on the buds would drown him
in a flood of tastes remembered, in a chaos
of pasts slipping from their triste moorings; afraid
of the toothbreaking dialects around him,
the grinning mouths flecked with food
he could not swallow. By the salt sea
he dried and slept; salted, hanging.
Babylon
And another, peeling the willow bark,
nails stained with green shreds, to plait
a basket, to place in it the eggshell-delicate
hopes of the day when they too will know
how a future can be extinguished, crushed like eggs,
the songs recorded for a grinning themepark,
he weaves away, nodding and smiling at his audience,
and the fast drops leak like a darting tongue
from the basket, green as a snake.
Venice/AnnArbor/Hudson
And another, walking by the lagoons,
by the campus lakes, the river at the street's end,
his hunger is too fierce, his mouth overflows,
the chewed fragments scattering as he closes
teeth on words from the world's other side,
grinning and shameless, paid (he says) to wear out
the patience of the young, the solemn, the embarrassed:
he eats and eats until he cannot talk any more, ginger
hot in the mouth. And the moist muscles swell and burst.
2013
George Szirtes was born in Budapest in 1948 and came to England as a refugee at the age of eight. His translations from Hungarian poetry, fiction and drama have won numerous awards. Szirtes lives in Wymondham, Norfolk, and teaches at the University of East Anglia.
Brodsky in 1994. Source: Alamy / Legion Media
George Szirtes
Sorrow
Everything has its limit, including sorrow
Joseph Brodsky
Everything has its limit, including sorrow
that hides in the margins and prefers life narrow:
nothing is written there except marginalia
of misery and impotence and failure
Joseph, I heard you as one of my own kind
a foreigner whose parts of speech were blind
but never deaf nor even could be dumb,
who choked on the cold sea that left him numb,
the numbness I felt in that wan flat voice
so perfectly tuned to loss, that might rejoice
in its own glumness and its soenic lust,
its Audenesque reply to the unjust.
From Mandelstam to Frost the moral route
is that which fits the voice to the cheap suit
of clothes one carries in one's battered case
to fit occasions and, sometimes, one's face.
Great hero, Joseph, your mind as deep and wide
as any sea a man might sleep beside,
your angel noises move into dear
that any human ocean yearns to hear.
2013
Lachlan Mackinnon (born in 1956) is a Scottish poet, critic and literary journalist. Until 2011 he was a lecturer in English at Winchester College. He has published several collections of poetry, critical studies and biographies.
During the Nobel Prize ceremony. Source: AP
Lachlan Mackinnon
An eye drinks a seascape as cranes clang
through the smog of an early morning
in the thrice-named city your teenage
years erupt out of. You are fifteen.
You walk out of school. You are next seen
in court. A servile and obtuse judge
demands who licensed your poethood.
You belong to no union. God
perhaps? Your answer finds no purchase.
You are sentenced. Internal exile.
But you survive. External exile.
Auden finds you work in a college
and you flourish in Michigan, that
cold place, Venice, Manhattan, and at
Byzantium - anywhere tonnage
harbours you find a momentary
stay. Against confusion, poetry
erects itself in search of knowledge.
Your baroque elaborate stanzas
show us a place no whit the Kansas
or New York or an exile's village:
a cold, northern, invented city
a tsar created, where a party
proved the noblest dream can turn savage.
Sentences taut with syntax, metre
that freezes time like architecture;
what is left of a man is language.
1996
All rights reserved by Rossiyskaya Gazeta.