A bestselling author with a diverse range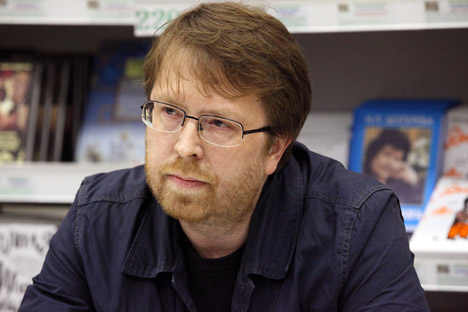 Andrei Gelasimov. Source: PhotoXpress
The Siberian-born writer Andrei Gelasimov speaks out about the three of his novels published in English.
Andrei Gelasimov has recently published a new book in Russian called Cold. RBTH connects with the Read Russia Media Library to recall this interesting and multi-faceted author's other novels.
Four of Gelasimov's novels have been published in English so far, all translated by the award-winning Marian Schwartz. 



In an interview he gave last spring at the Central House of Writers in Moscow, Gelasimov talks about the three of his books that had been published in English up till that point. Be warned, it contains spoilers! 




Andrei Gelasimov, English subtitles: Source: Read Russia, The Intelligent Channel


Thirst, which bears many of the hallmarks of a road movie, is a novella about Russia's lost generation. It follows three young guys who have returned from the war in Chechnya and are looking for their fourth friend. Read more about the book in an RBTH review.
Gelasimov's second book, The Lying Year, focuses on the same time period as Thirst: the late 1990s, with its accompanying criminality and financial default. This is one of the most controversial episodes of recent Russian history, but the book is written in a humorous, satirical way, with certain elements of the grotesque. The plot's main thrust concerns the love triangle between a slacker Mikhail and Sergei, a wealthy man's son, who are in love with the same girl. Read more in an RBTH review.




Gelasimov's third book, Gods of the Steppe, was a bestseller in Russia and is also unlike the other two novels. The story takes place in 1945, far from Moscow on the Soviet Union's enormous eastern border with China. In a small village in the steppe people are waiting for Soviet troops to return after the war. An isolated 11-year-old boy whose father has died strikes up a friendship with someone who is equally isolated but for different reasons: a Japanese prisoner of war. A month after being published in the UK the book moved onto the war fiction bestseller list.
Discover contemporary Russian writers with RBTH and Read Russia: Alexander Terekhov,reveals the mystery of Soviet Romeo and Juliet after years.
All rights reserved by Rossiyskaya Gazeta.