How much would Gogol's overcoat cost today?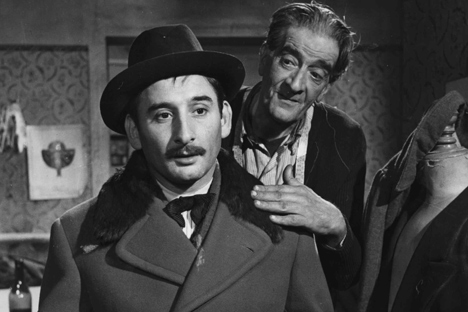 A screenshot from 'Overcoat' movie by Italian director Alberto Lattuada. Source: kinopoisk.ru
Some of the key prices featured in great Russian novels according to today's exchange rate.
The Overcoat by Nikolai Gogol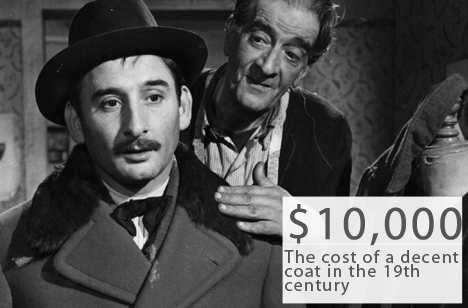 A screenshot from The Overcoat movie by Italian director Alberto Lattuada. Source: kinopoisk.ru
The clerk Akaky Bashmachkin needs a new overcoat for the winter, so he quits drinking tea and gives his clothes to the washerwoman less often to save up for his purchase. But the first day he puts on his new overcoat, some thugs steal it and run away. The criminals aren't caught, forcing Bashmachkin to go back to using his old, threadbare coat. He catches a cold and dies a few days later.
Crime and Punishment by Fyodor Dostoevsky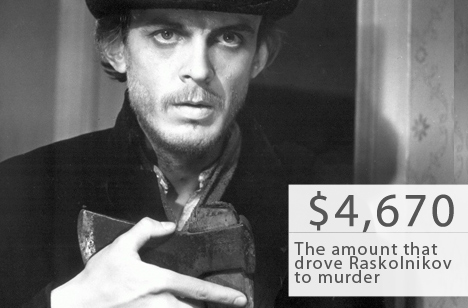 A screenshot from Lev Kulidjanov's movie Crime and Punishment. Source: kinopoisk.ru
The impoverished 'eternal student' Raskolnikov borrows money from an old pawnbroker, but he soon kills her with an axe and steals 320,000 rubles. However, out of fear of being caught, he hides the money and is tormented by remorse for rest of the novel.
Lefty by Nikolai Leskov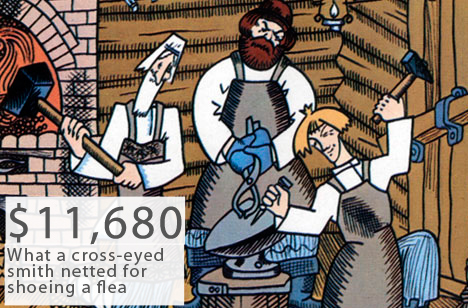 An illustration for Leskov's Lefty. Source: open sources
In Leskov's story, Russian Emperor Alexander I is given a steel flea in England that can dance. When his heir, Nicholas I, sees the flea, he orders his attendants to find someone in Russia who can provide a worthy response to the English craftsmen. Cross-eyed Lefty from Tula makes tiny horseshoes for the flea.
War and Peace by Lev Tolstoy

A screenshot from Sergei Bondarchuk's movie War and Peace. Source: kinopoisk.ru
Nikolai, the brother of Natasha Rostova, one of the main heroines in War and Peace, plays cards and loses 70 million rubles in today's money. It is a significant sum even for wealthy Russian aristocrats. However, one of the foundational rules of honor is always pay your debts, so Nikolai's father, a former state official, has to settle the losses.
The Queen of Spades by Alexander Pushkin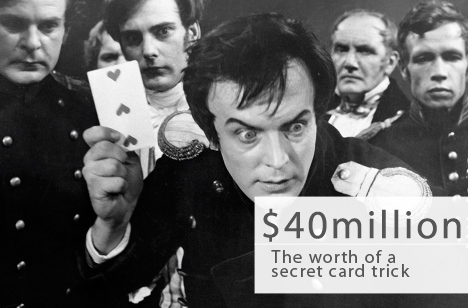 A screenshot from Roman Tikhomirov's movie and opera The Queen of Spades. Source: kinopoisk.ru
A German man is told the story of a countess who knows a secret card combination that can bring the player an incredible fortune. The German sneaks into the countess's bedroom at night. She dies immediately from a heart attack, but her ghost tells the obsessed man the combination: "three, seven, ace". The German goes to play, but when the cards are shown, the ace magically turns out to be a Queen of Spades with the countess's winking face.
Based on materials from Kommersant
All rights reserved by Rossiyskaya Gazeta.