Kargopol: Star of the Russian North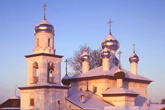 Among the many treasures of the historic Russian north, one of the richest is the town of Kargopol, located in the southwestern part of Arkhangelsk province. This small regional center of some 12,000 souls was founded perhaps as early as the 11th century. The town's remarkable churches remind of its former wealth from the 16th until the 19th centuries, when it was part of a strategic trading route along the Onega River to the White Sea.
Photos & commentary by William Brumfield
Related article: Kargopol: Star of the Russian North
All rights reserved by Rossiyskaya Gazeta.