Rinsing in the Ladojskoy lake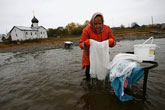 An ancient (built in 16th century) village of Storojno. South coast of the Ladojskoye lake in a few hundred kilometers to the east of Saint-Petersburg.
As many other villages today, Storojno is almost deserted. An old lady brings her linen in a cart to the bank, steps into the lake and rinses the linen in cold water of the Ladojskoy lake...


Photo by Roman Hramovnik
All rights reserved by Rossiyskaya Gazeta.