"Giving hope" walk with stray dogs was held in Moscow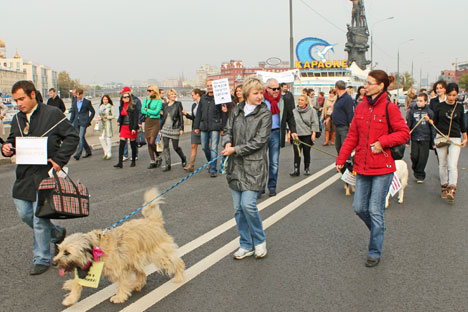 Russian actors, singers and other celebrities took part in the first "Giving hope" meeting in the aid to shelter animals, which was held in Moscow on October the 4th, the World Animal Day.

«Giving hope» foundation, the international charitable organization of aid to the pets, carried out the walk with stray dogs and invited all the concerned people to join it. Some well known Moscow stars together with the defenders of animals have urged the residents of the city to pay attention to the problem of homeless animals, and, particularly, to take one from a shelter.

"We hope that such walks with the celebs will attract a much larger number of people willing to help dogs", told Tatiana Коroleva, the head of the regional public organization of assistance to homeless animals "Human Ecology" .

There are 18 shelters for animals currently in Moscow. There is no accurate data on the number of stray dogs in the city yet. At the end of last year, according to rough estimates, there were about 26 thousand.
All rights reserved by Rossiyskaya Gazeta.