RBTH Vintage Hockey Remix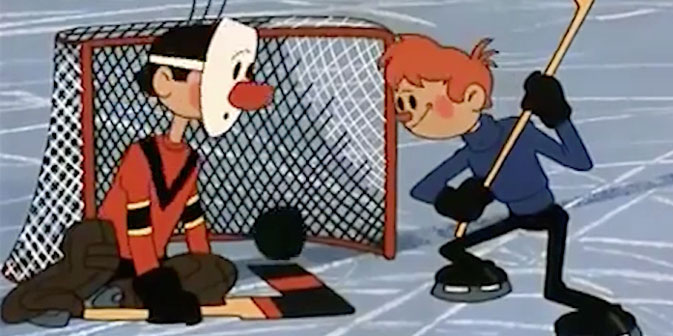 We present you the RBTH Vintage Hockey Remix, a nostalgic journey through some of the most iconic videos dedicated to the world of Russian ice hockey.
Get ready to discover the funny side of the sport with the 1964 animated film by Boris Dyozhkin Shaybu! Shaybu! (a Russian hockey cry meaning "The puck! The puck!"), sing with Eduard Khil (aka Mr Trololo) as he performs popular song "No Coward Plays Hockey," and cheer during a certain legendary hockey match between the U.S. and the USSR during the 1980 Winter Olympics at Lake Placid…Enjoy!
Lyrics of the song "Trus ne igraet v khokkey" ("The coward does not play hockey"):
The ears ring with the bold music of an attack...
Make an accurate pass, shoot hard!
And everything is right, if on the ice is
The Magnificent Five and a Goalkeeper!

Chorus:
The ice brotherhood combats hard
And we trust in courage of desperate guys
Real men play hockey,
No coward plays hockey!

Let the place behind the rival's net to be more frequently
Illuminated by red lamp's victorious flash!
But if there's a need, defends brilliantly
The Magnificent Five and a Goalkeeper!

Chorus

Many beautiful games would be seen
And we won't forget, we'll never forget as long ago
Gold and cups have been won at ice battles by
The Magnificent Five and a Goalkeeper!

Chorus
Learn all you need to know about the world of Russian superstars on American ice with the Russian Hockey Players Guide app!
All rights reserved by Rossiyskaya Gazeta.