Celebrating Orthodox Christmas in St.Petersburg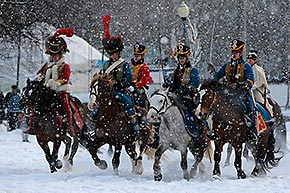 Historical re-enactors dressed as 1812-era French horsemen ride during a reenactment of the French Invasion of
Russia
in 1812, during celebrations to mark the Russian Orthodox Christmas in St.Petersburg,
Russia
, Monday, Jan. 7, 2013. Christmas falls on Jan. 7 for Orthodox Christians who rely on the old Julian calendar rather than the Gregorian calendar adopted by Catholics and Protestants and commonly used in secular life around the world.
Source: AP Photo / Dmitry Lovetsky
All rights reserved by Rossiyskaya Gazeta.