"The Magical Ice of Siberia" festival takes place in Krasnoyarsk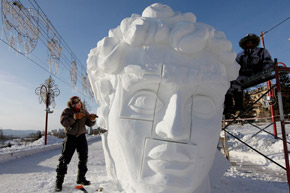 Alexei Vasyukov (left) and Mikhail Rukosuev, members of a team from the Russian Ural city of Perm, work on a snow sculpture based on a creation by Italian Renaissance artist Michelangelo during the 1st International festival of snow and ice sculptures called "The Magical Ice of Siberia" on an embankment of the Yenisei River in Krasnoyarsk, January 17, 2013. Source: Reuters.
All rights reserved by Rossiyskaya Gazeta.