Echo of solar storms now heard in Moscow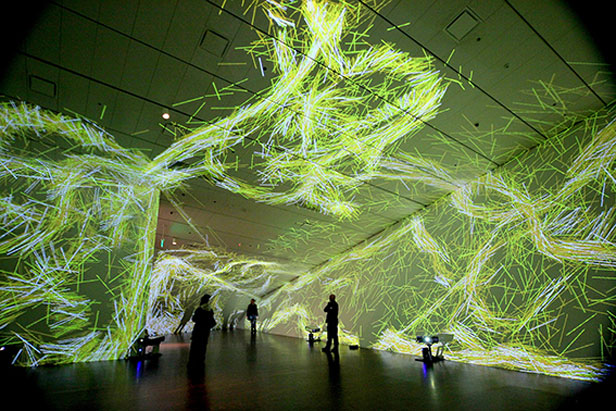 The Manege Museum opened its 2013 season with The Terrestrial Echo of Solar Storms installation by the Scottish artist Charles Sandison. For the installation Sandison makde use of texts by Alexander Chizhevsky, Russian founder of the cosmism theory.
One of the oldest Mosсow's exhibition centers, Manege Museum, began the new 2013 season with a performance of the well-known Scottish artist Charles Sandison. The Terrestrial Echo of Solar Storms is a new project of the designer which he had prepared especially for the Manege space. In fact, it's a composition of different quotations that are projected onto the walls, floor and ceiling of the building. This time as a source of quotations Sandison chose thoughts of the famous Russian scientist, philosopher, a founder of the cosmism theory, - Alexander Chizhevsky.
Till January 26 the visitors of the Museum are able to see a completely empty arena, where one can find nothing except «lightening words». It is, probably, the most unusual exhibition in the Manege since the transformation of the building into an exhibition hall in 1831.
Charles Sandison became famous for his projects with words and letters that come to life, move, and die. The installation in the Moscow Manege is his third major project after the exhibitions in the catacombs of Paris and the Roman Forum.
All rights reserved by Rossiyskaya Gazeta.