New York gallery hosts masterpieces of Russian primitivism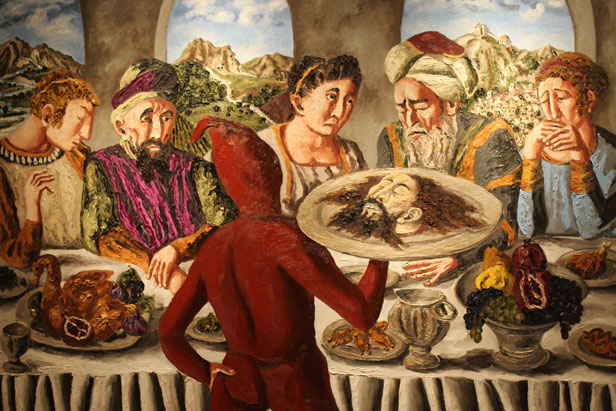 Nesterova, 68, is among the most internationally acclaimed Russian artists on the contemporary art scene. Some critics put her into a category of "primitivists" or "realists," but often she is classified simply as "Natalya Nesterova"—for being such an original artist. Alexandre Gertsman Contemporary Art Gallery exhibits her work in Manhattan in an ongoing exhibition that opened on January 16, 2013.

The current exhibition called "Natalya Nesterova: Christianity? Judaism?" covers both Christian and Jewish themes. For example, Herod the Great's "Feast" shows the moment when the head of John the Baptist was brought to Herod on a plate while he was dining. The painting is full of interesting details—the scenery that you can see through the windows, different dishes on the table— but the centerpiece is the head served on a silver plate. The proximity of the head to the dishes and its mere presence at the feast creates a disparate atmosphere and the effect is chilling.
Related article: New York gallery showcases Natalya Nesterova
All rights reserved by Rossiyskaya Gazeta.