Instaweek: #followme couple going to the altar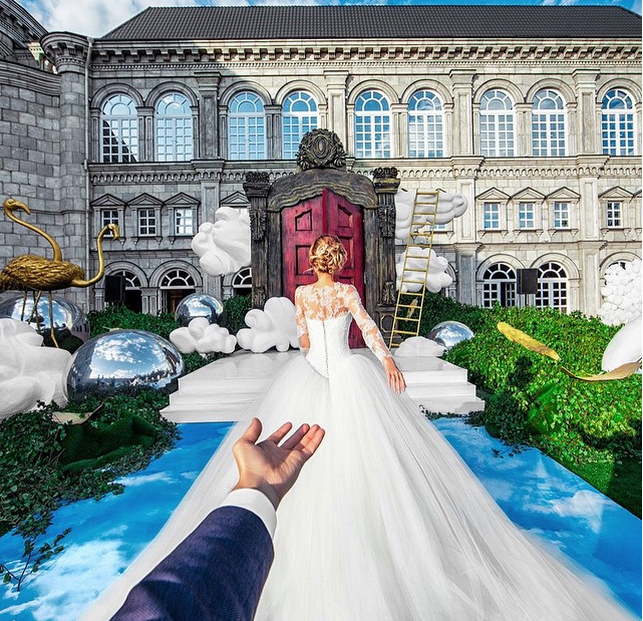 The fabulous wedding of Russia's most famous Instagram couple
The previous week Russia's most famous Instagram couple got married. On 7th of June Murad Osman and Natalia tied the knot in front of 200 friends and relatives attending the celebration, plus 2,7 million followers on Instagram.
Murad Osman is from Dagestan, in the Caucasus region of Russia, and lives in Moscow. He travels with his girlfriend Natalia, and together they take photos: the incomparable Natalia walks ahead with Murad behind, holding her hand.
The couple has visited hundreds of cities, each time taking photos with breathtaking views. It all began in Barcelona, when Natalia suddenly walked out in front and Murad captured the moment. It later turned into the #followme project with millions of followers from all over the world.
On one occasion… she said YES
The wedding was held in a farmstead near Moscow, and the ceremony looked like a fairy tale with a big red door in the center and stairs resembling clouds in the sky above green bushes — a real stairway to heaven.
That is how guests saw all the decorations.
"We've been waiting for this day so long... And finally it came. We appreciate an opportunity to work at our dream with incredibly talented people. Tons of decor, a giant Pegasus, thousands of plates, three dresses, buckets of tears, one hubby, forty clouds, fifteen untouched pieces of cake and a few dozen broken glasses. They say it's for luck," Murad shares his thoughts on Instagram.
It's hard to make a huge pink Pegasus that doesn't look vulgar, but the team working on the celebration managed it perfectly.
The newlyweds slicing the cake in front of family members.
We wish the new couple happiness and more spectacular projects!
All rights reserved by Rossiyskaya Gazeta.