Instaweek: Why do Russian engineers ride around in washbasins?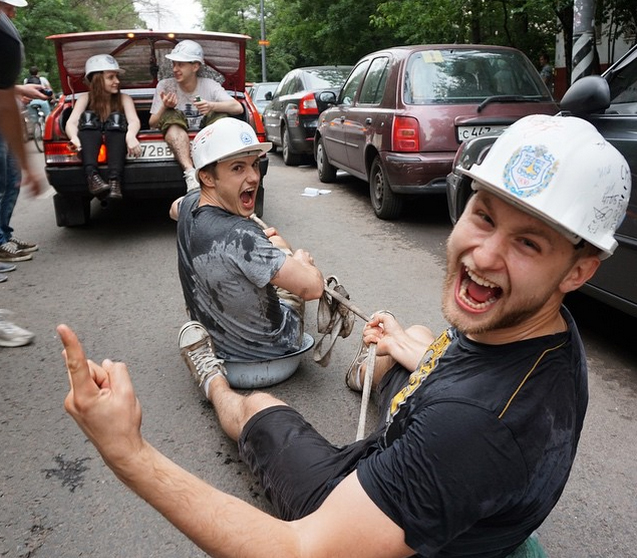 This week we tell about an old Russian tradition among students engineers
You're in Moscow on vacation. On Friday late June you go to Izmailovskaya Metro station (dark blue line) for a stroll in the forest or to visit a friend. You're walking past the nearby hall of residence of Bauman Moscow State Technical University when a car passes by… with a washbasins tied to it full of people wearing helmets, pouring out beer and champagne. What's it all about?
Bauman MSTU is the top engineering university in Russia. Studying there is a hard slog, but you come away with a solid diploma (the majority of graduates are engineers). Come the end of June, exams are over, students have their diplomas, and it's celebration time. Here's how to do it properly according to custom:
Buy a helmet. Keeping your head safe is important for an engineer. Your friends and other students could sign the helmet and leave some nice wishes.
Get a group of mates together, preferably with a car. Grab a girlfriend and start taking selfies.
Buy a few large baths and small washbasins. In the USSR people used them to wash clothes, but you have a different purpose in mind. Make a small hole in the side of one of them and take a firm rope.
Buy a lot of beer. YOU HEAR ME? A lot of beer and champagne.
Learn the phrase "I'm an engineer!" ("Ya inzineer!" – in Russian: Я инженер! ). And be ready to shout it loud.
Take your lecture notes (if you happen to have it with you), enter the hall of residence, go to the upper floor and throw it out of a window screaming "Ya inzineer!".
That done, go out and let your hair down. Tie the washbasins to the open trunk of a car, crank up the music, and crack open the beer. Put a helmet on, sit down in one of the washbasins, and ride very fast behind the car.
A crowd in front of you splashes you with beer and champagne.
These youngsters are happy to graduate and they're cutting loose like there's no tomorrow.
Add some color and fun. Smile!
And one more: a guy riding in a car with people in a washbasin tied to it. The party goes on till midnight, when the police come to calm everyone down. However, you had enough time to find new friends and there'll be many other parties around for sure.
Take a photo and put on a wall. Add the caption "Ya inzineer!" And don't forget those Russian grad parties.
All rights reserved by Rossiyskaya Gazeta.