Instaweek: What does Russia have except Putin and oil?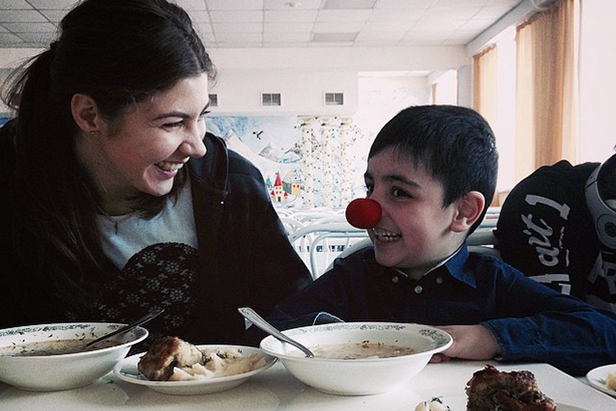 The "Everyday Russia" Instagram project shows the country as it is
Russia may be famous for ballet, literature, history, communism, space exploration, cuisine and Vladimir Putin. It's all part of our country… but it's the part that you've heard about. However, there is something different. The "Everyday Russia" Instagram project shows the country as it is: wooden houses, carpets, harsh winters, beautiful girls and soulful people. What is Russia's most important treasure? People. Russian people might seem strange at first sight, but they are nice, welcoming and kind — that is the main treasure hidden in these photos of everyday life.
"Carpets are a big part of the Russian interior. Big in every sense." Ivanovo. Photo by Dennis Baburov.
"Children playing on a square near a Buddhist temple." The Republic of Kalmykia. Photo by Nina Zotina.
"Life goes on..." Vika (left) was held hostage during the Beslan school terror attack in 2004. Now she studies at St. Petersburg University, but returns to her native city and her school quite often. She is one of the brightest persons I've ever met. Volunteering with children from orphanages, taking care of friends, helping people — she considers all people are born good. I met her almost 10 years ago and am really happy watching her become a beautiful young woman after all those tragic events." Beslan. Photo by Oxana Yushko.
"About 20% of Ekaterinburg residents are pensioners. Second World War veteran Matryona Ivanovna (94 years old) loves reading the Evening Yekaterinburg newspaper and watching Wheel of Fortune and Let's Get Married! on TV. She moved to Ekaterinburg, to her daughter, 7 years ago, when her 91-year-old husband died in her native city of Kirov (Kaluga region). Six months ago Matryona Ivanovna broke her leg, but made a full recovery in just a couple of months. Can you imagine how strong the will to live of such an old woman must be?" Ekaterinburg. Photo by Daria Kozinova.
"I'm looking at Sergey. Steam is coming off him. Sergey goes to the Russian bath-house every weekend." Kostroma. Photo by Ira Emets.
"Lake Baikal. I met this extremely beautiful girl right before taking the ferry to the island. We even got acquainted, but unfortunately I've forgotten her name." Photo by Mikhail Mordasov.
"Helicopters from the Naryan-Mar squadron take dozens of workers from and to oilfields every day. The pilot is having a rest by the window." Photo by Strelkov Denis.
"Sochi. The city where mountains meet the sea: the host city of the 2014 Winter Olympics. Here we go!' Photo by Olya Virich.
"Lazhechnikova Street and its permanent guard Vladimir Ivanovich Starikov, who has played the role of 19th century policeman for 8 years. Now you know what kind of people live in Kolomna: kind, talented, hard-working, enthusiastic and hospitable. Come and visit us, and you'll see everything for yourself!" Photo by Tatiana Solovieva.
"Alexey and Vladimir fishing on the Silva river in Perm region." Photo by Ilias Farkhutdinov.
"Workers at Kaliningrad zoo rescue a wounded baby seal." Photo by Alexander Podgorchuk.
"A service at Pokrov Church on Truda Street. The church was built in 1788. During the Russian Civil War it was partly destroyed. Later, in the Soviet period, it was converted into a bakery. In 2012, the church was restored and opened to the public." The Udmurt Republic. Photo by Constantine Gulyaev.
"How can an island exist without the sea? The sea is everywhere. The sea is our life. There are two seas near Sakhalin: the Sea of Okhotsk and the Sea of Japan. A long time ago people thought that Sakhalin was a peninsular. Gennadiy Ivanovich Nevelskoy proved that Sakhalin is a proper island." Photo by Alexander Gaivoron.
RBTH spoke with the founder of the blog, Mikhail Mordasov, about his hopes and aims for the project.
All rights reserved by Rossiyskaya Gazeta.