Red line: Egypt, the twists of the Arab Spring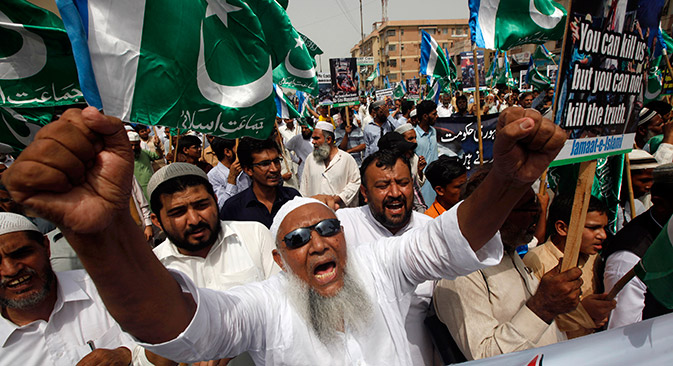 Every week Voice of Russia hosts a discussion about the global events as they are seen from Moscow.
In this edition:
1) Egypt: the twists of the Arab Spring
The events in Egypt were making headlines for another week as the government was struggling to quell the dissent and get out of the worst political crisis in decades, while Islamist die-hards intensified their attacks on the security forces in an attempt to turn Egypt into another open front for global jihad. While street protests, rocking major Egyptian cities were on decline this week following the imposition of one-month curfew, the security situation at Sinai Peninsula deteriorated sharply. 25 policemen were killed this Monday in a deadliest attack since 90-es when militants fired rocket-propelled grenades at two buses carrying police officers. The attack added to the ongoing speculation that Al-Qaeda is trying to exploit the recent conflict in Egypt to its ends, trying to expand jihadi-led revolution throughout the Middle East.
2) How will it change America and the world
Bradley Manning, US Army soldier was sentenced to 35 years in prison this week for revealing hundreds of thousands of classified military and diplomatic reports -- the largest leak in the US history.
Bradley Manning, who is 25, was also dishonorably discharged, saw his rank reduced to private from private first class and was forced to forfeit all pay and benefits. Manning will have to serve a third of his sentence before he is eligible for parole.
3) Pervez Musharraf, ex-president of Pakistan, charged

The former president of Pakistan, General Pervez Musharraf, has been indicted on three charges in connection with the murder of former Prime Minister Benazir Bhutto in 2007 this Wednesday — another landmark trial of the week. Prosecutors have said former military ruler is charged with murder, criminal conspiracy to murder and facilitation of murder. However, Mr Musharraf's legal team says the evidence against him is totally falsified and dismissed the indictment. "These charges are baseless. We are not afraid of the proceedings. We will follow legal procedures in the court," his lawyer, Syeda Afshan Adil, told the media.
The article was first published in Voice of Russia
All rights reserved by Rossiyskaya Gazeta.